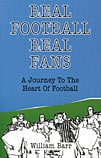 A Journey To The Heart Of Football
by William Barr
Morrow & Co, £8.99
Reviewed by Neil Rose
From WSC 265 March 2009
Just where is the heart of football? That is the question posed by William Barr in this slightly curious book whose title sums up the whole venture.
Sickened by the excesses of top-flight football, Barr reasons that "real football" and "real fans" can be found at the furthest reaches of the professional game – although as a Norwich fan one presumes he hardly wallows in all the superficial glamour it has to offer in the first place. Nevertheless he vacates his seat at Carrow Road to criss-cross the country and take in a game at every League Two ground last season, sampling life as a supporter of each and in the end, he hopes, rediscovering his love for the game.
Each chapter on the journey from Accrington to Wrexham follows a similar pattern and does become a bit repetitive. Barr arrives in the vicinity and sketches the area, before meeting up with a home fan or club official contacted in advance to muse on the club's particular challenges. Ironically, more than one with recent experience of non-League fondly recalls that time because it was "real football". He then takes his seat and appears to see more exciting, high-quality games than the average League Two fan can expect over the course of a season – remarkably he does not witness a single goalless draw. And he eats a pie, talks about it a lot (really, an awful lot) and gives it a score out of ten.
Barr is a pleasant enough companion on our journey, although we learn little about him personally, making the book a bit hollow. His writing reaches for the nearest pun or cliche too easily – Barnet v Brentford, for example, sets off an avalanche of not terribly clever bee allusions – and he gets carried away with the pies (at the end he feels the need to confess to any confused reader that there are no such things as pie stewards, football matchday pie regulations or electronic pie scorers). The sketches of the 24 clubs are engaging but it is in the final portion of the chapters that the book drags. Barr's description of each game is neither brief nor particularly interesting if you do not support the teams involved.
And at the end, what has he learnt? League Two games are played in good spirit, and the fans are "miles away from the ranting partisan fools who pollute the airwaves of 6.06 with their triumphalism and their hatred of competing clubs. They make enough noise during the game, but one-to-one they are a quiet, realistic and thoughtful bunch". This book offers a distinctly broad-brush picture that matches what the author expected to find, but it is on the whole a reasonable generalisation.
Ultimately Barr may be re-energised by his journey, but for the rest of us it uncovered little that any "real" fan does not already know, except that Bury sounds a nice place to visit and that Dagenham & Redbridge have the best pies, eclipsing even Delia's.