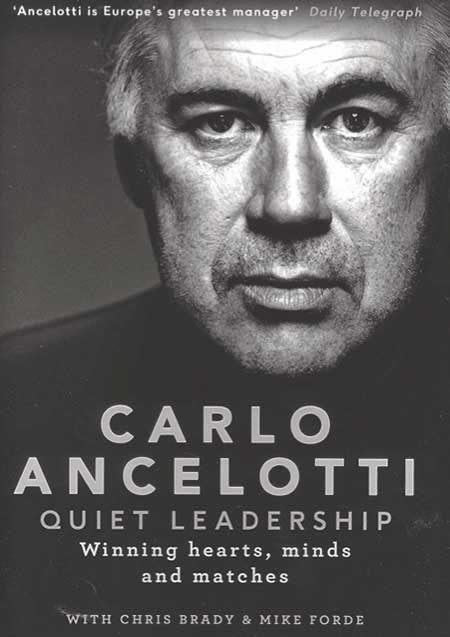 Winning hearts, minds and matches
by Carlo Ancelotti, with Chris Brady and Mike Forde
Portfolio Penguin, £16.99
Reviewed by Ed Wilson
From WSC 356 October 2016
The authors of this book – Carlo Ancelotti, Chris Brady and Mike Forde – aspire to something more profound than the score-settling, indiscretions and self-justifications of the typical sports memoir. Instead, they hope to offer the general reader an insight into how "an expert practitioner" in "one of the most competitive markets imaginable" can be "instructive for anyone in modern business". What results is an awkward hybrid that is unlikely to satisfy readers hoping to move up the management chain, or those who are simply interested in the game of football (frequently referred to in this text as "the product").
Divided into chapters with titles that wouldn't look out of place on a PowerPoint at a digital media company's end-of-year conference ("Data", "Culture", "Hierarchy"), Quiet Leadership largely consists of Ancelotti's reflections on his managerial methods and practices, with examples drawn from his own career. This material is primarily anecdotal, and contains some insights into the players and clubs with whom he has worked.
For example, Ancelotti is called to Roman Abramovich's house to discuss Chelsea's performance in an early season fixture against Wigan: the score – a second 6-0 victory in a row – is not enough to save him from criticism. If seeing this anecdote in print is not enough to encourage Abramovich to question his own management strategies, Ancelotti's suggestion that "even Berlusconi had not been so demanding" will surely cause him to reflect.
With the exception of one aside, in which he speculates with apparently genuine interest on the "prevailing orthodoxy in HR", Ancelotti's chapters thankfully focus on the specifics of football and football management, and his experience of working in extraordinary situations at AC Milan, Real Madrid and Paris Saint-Germain will be of interest to most football fans. It is mainly left to Brady to extrapolate the broader business lessons from these recollections, in bullet-pointed lists at the end of each section and occasional reflective essays.
Those unsympathetic to the definition of football as a "competitive market" or "product" will quickly grow tired of the quasi-philosophical language in which the marriage of sport and business is couched. For example, Brady occasionally eschews the titular phrase of "quiet leadership" in favour of the "quiet way", a coinage that suggests a fusion of mysticism and martial arts, but all directed towards the noble pursuit of year-on-year growth.
And the extent to which Ancelotti's experience in football is applicable to business in general is also questionable; how helpful are his reflections on the fusion of 4-3-3 and 4-4-2 formations to those readers hoping to find advice on how to oversee expansion of a carpet-fitting business?
The most interesting insights into Ancelotti's strengths as a leader are found in the testimonies offered by several of the stars he has managed. Unsurprisingly, all of them agree that Ancelotti is a great leader. More informatively, when asked to identify what makes him great, Ronaldo and John Terry both offer variants of the answer given by Zlatan Ibrahimovic: "He cares for you."
Perhaps, then, this is the didactic heart of the book, and the bedrock of the philosophy of "quiet leadership": people will work hard for you if they think you care about them. The point is valid but, like so much of this book, the wisdom is hardly revelatory, and neither are the anecdotes that illustrate it.