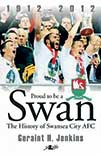 The history of Swansea City AFC
by Geraint H Jenkins
Yr Lolfa, £14.95
Reviewed by Huw Richards
From WSC 309 November 2012
Whatever else can be said about Swansea City, it cannot be denied that we attract a decent class of club historian. The centenary biography is by Geraint Jenkins, a Professor of Welsh History. It follows in the 30-year-old footprints of the club's previous chronicler David Farmer, a Professor of Management Studies. Proud to be a Swan has the virtues of that academic provenance. It is well and widely researched – to the point of penance, judging by some of the titles in the bibliography – factually reliable and judicious rather than hyperbolic.
Jenkins ranges more widely than Farmer, whose dogged season-by-season account rarely looked beyond the preoccupations and content of the back page of the South Wales Evening Post. The club's history is related to the context formed by the progress of its host community and the fortunes of its economy and society. Swansea's copper and tinplate industries and the 1941 blitz take their place alongside the Vetch Field, Robbie James and the FA Cup semi-finals of 1926 and 1964. If you are one of many fans the Swans have gained in recent years, or a supporter of another club wanting to know more about an opponent which has compelled attention, this is a decent introduction.
Jenkins obeys the injunction to leave readers wanting more but not entirely in a way that they might want. He is largely cliche-averse but may have found himself muttering the one about quarts and pint pots. Given 30 more years and a wider frame of reference than Farmer, he is forced to tell the story in little more than three-quarters of the length.
One hundred and eighty-six pages is not remotely enough to do real justice to the first 100 years of any club, never mind one whose fortunes encompass the extremes of two periods of extraordinary upward mobility, a post-war era that included an exceptionally fertile generation of talent and at least three near-death experiences.
Jenkins is too scrupulous a historian to deny that the bad years have far outweighed the good. He ensures that they and their personalities receive proper weight alongside the peaks attained in recent years as well as under John Toshack and the achievements of giants like Ivor Allchurch and Cliff Jones. Perhaps the best passage in the book describes Herbie Williams – "The unlikeliest of soccer idols. Tall, gangling and unprepossessing" – a gifted player who was preternaturally unlucky in the timing of his career.
Those constraints of space force Jenkins to maintain a brisk tempo which leaves only limited scope for reflection or the wealth of anecdote generated by a club which abounds in idiosyncrasy. The result is an account which describes rather than evokes and seems slightly monochrome given the rich colour at its disposal.
He is perhaps unlucky that another centenary project – the online club archive at Swansea University – was under construction rather than fully available while he was writing. That promises to be a rich resource for any future historian – so long, of course, as they get enough space.