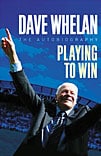 Playing To Win
The Autobiography
by Dave Whelan
Aurum Press, £18.99
Reviewed by Ashley Shaw
From WSC 272 October 2009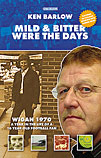 Mild And Bitter Were The Days
Wigan 1970
by Ken Barlow, £9.99
Reviewed by Ashley Shaw
From WSC 272 Oct 2009
It's easy to have a pop at Dave Whelan. An old-school Tory businessman with a "pull yourselves up by the bootstraps" philosophy, he has recently taken on a rent-a-quote personality, a reliable fall-back for Sky Sports News on a slow news day. His book, like the man, is a plain-speaking offering that might irk some.
Yet Whelan's life is undeniably interesting. A throwback to the mill owners of Lancashire lore, his omnipotence in Wigan has been established for over a decade now – like or lump him, there's no denying his achievements.
Playing To Win starts with a scarcely believable tale about how he met his father for the first time on a bus (his dad having spent most of young Dave's childhood "at war" in Iceland) and moves through a frenetic adolescence where he seems to have been some kind of pie-eating version of CB Fry, succeeding at almost every sport imaginable. Eventually snapped up by Blackburn, his career was curtailed by an over-the-top lunge by Ron Deeley in the 1960 FA Cup final. This was revenge, the author makes clear, for an earlier reducer on the Wolves winger.
All of which makes what happens next all the more remarkable. Whelan opens a corner shop, then a market-stall and eventually a supermarket in Wigan town centre. His empire expands so rapidly that he sells out to Morrisons for £3 million before buying a sports shop, again in Wigan. His JJB chain brings the philosophy of the supermarket to the hitherto stuffy world of sports retail and within a few years Dave is a very rich man. At this point the tale takes a pantomime turn. Diamond Dave, visiting the ugly sister of Wigan sport at creaking Springfield Park, sprinkles the fairy dust of his fortune upon her, facilitating a rise through the divisions.
This must have come as something of a shock to Ken Barlow, author of Mild And Bitter Were The Days, a reproduction of a diary written as a Latics-obsessed teenager in 1970 when the club still played in the Northern Premier League.
With Wigan now a successful national brand, Barlow's nostalgic recollection of the Latics' muck-and-nettles heritage is amusing and well written. The diary format is a little repetitive but it takes a brave man to reveal the innermost thoughts of his teenage alter-ego. It is a reminder that there's nothing new in the world of the young rebel or indeed in the joys of non-League football.
Playing To Win is more prosaic and Whelan's italic interjections – along the lines of "And he didn't!" – tend to jar. Yet it reveals more than most about the inner workings of a football club, shedding light on an era when players were genuinely enslaved, while it now often feels as if the fans are. The relief is that Dave Whelan does not seem be a megalomaniac or after a quick buck – he genuinely wants to see his club, and his town, succeed – a rare commodity in today's game.