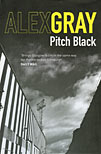 by Alex Gray
Sphere, £11.99
Reviewed by Graham McColl
From WSC 255 May 2008
England's tilt at the 2006 World Cup is still a "live" memory for most football fans: the last hurrah of Sven, Beckham as prima donna, Theo Walcott as team mascot, Joe Cole's goal against Sweden, Wags dancing on tables and, of course, of Nicko Faulkner, the midfield player, since found stabbed to death in his Glasgow home, and whose obituary in the Gazette states: "He will probably be best remembered for his performance for England in the 2006 World Cup that earned him an England cap."
When football fact and football fiction meet, it tends to result in a nasty, jarring collision. The great difficulty for authors such as Alex Gray mingling football with creative writing is that the twists and turns of the real thing are so bizarre themselves that a fictional approximation can only pale in comparison. Who could have dreamed up the true-life story of Sven? Or of Gretna, propelled from the Unibond League to the SPL in five years by the largesse of Brooks Mileson, a ponytailed owner with an animal menagerie, then left to crash and burn once they got there?
Pitch Black is a sturdy, muscular murder mystery, set in the vicinity of Glasgow, with each sentence weighed for effect. It is only when the author strays into football fact that the tale starts to shudder spectacularly, like a family saloon car suddenly veering off-road. In comparison to Sven or Mileson or Beckham, the football characters she has created are almost stereotypical: there is a cheeky, wide-boy striker, a greedy chairman with plans to sell the ground for development and a sleazy, alcoholic journalist.
The reader is also asked to believe that Faulkner, an ageing maestro, not only went to the World Cup while with a Championship side, Sunderland (surely leading to his wife being studiously shunned by the Wags), but that he then quickly moved on to "Kelvin FC", the fictional club at the heart of the story – a very thinly disguised approximation of St Mirren. To the casual reader this is probably convincing enough, but to those living in football's shadow it stretches credibility until it is almost threadbare.
Bodies tumble regularly from the pages, as if in a literary version of an episode of Taggart, and the author cleverly parades a host of potential suspects. As she gets into her stride, the story becomes engrossing enough to forgive the occasional footballing faux pas, such as "try as they might, the strikers simply couldn't put the ball past the post".
But credibility is stretched further when Kelvin, a Scottish First Division team, play a 3‑3-4 formation away from home… and when shares in Kelvin are sold for a fortune and the club then plunge immediately into administration… And when we're told, for the tale, that the Old Firm's domination of Scottish football has been broken, we're suddenly deep into the realms of science fiction.