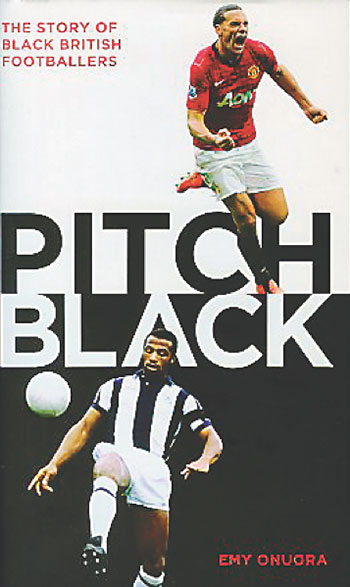 The story of black 
British footballers
by Emy Onuora
Biteback Publishing, £16.99
Reviewed by Paul Rees
From WSC 341 July 2015
The issue of racism in football remains sadly pertinent, as indicated by serial incidents at games in eastern Europe and the taunting of a black man by Chelsea supporters ahead of a Champions League fixture in Paris earlier this year. As such, there is a requirement for a definitive history covering the emergence and ultimate triumph of black footballers in the British game. Emy Onuora would seem to be well-placed to produce it. Brother of erstwhile Huddersfield, Gillingham and Swindon striker Iffy Onuora and a race relations scholar, he promises to bring a unique perspective to his subject but never manages to mould that into a gripping narrative.
Pitch Black is strong on basic detail. It capably charts the rise through the 1970s of players such as Clyde Best at West Ham and West Brom's so-called Three Degrees, Cyrille Regis, Laurie Cunningham and Brendon Batson, relating the vile abuse these early trailblazers were routinely subjected to at grounds across the country. Similarly, Onuora sheds light on the tales of less familiar names. Among them are those of Bradford City's Ces Podd, the first black British footballer to be granted a testimonial, and Calvin Plummer, a promising young forward with Nottingham Forest press-ganged onto a tour of apartheid-era South Africa by his manager, Brian Clough. However, Pitch Black is undone by the author's dry writing style, often reading like an academic dissertation, and his unfortunate tendency to continually repeat the same facts.
Onuora's book also suffers from his apparent lack of access. He recounts the chastening experiences of one black footballer after another, but the reader is deprived of first-hand accounts. As a result Regis, Batson, Garth Crooks, Ian Wright and others pass through Pitch Black like ciphers and with no new flesh being put on the bones of their stories. Onuora is scant on the contemporary game too. The likes of Danny Welbeck, Daniel Sturridge and Raheem Sterling are all but invisible and he skips over the Luis Suárez and John Terry controversies with undue haste.
Frustratingly, there are the beginnings of a more rounded book here. Onuora touches upon such disparate but integral themes as the upsurge of the National Front, the role taken by football fanzines in confronting racism on the terraces head-on and the paucity of black managers and Asian footballers in the British game, but without burrowing down to extract deeper truths. Other than passing references to evolving hairstyles and "high-five" goal celebrations, he is remiss in tracing the strong influence black culture has had on football and the wider society in this country. Reggae, ska and hip-hop, to name but three black musical forms of incalculable significance, barely rate a mention.
Doubtless, there is a fascinating and important book to be written on this subject, one that is as much a social and cultural document of record on post-war Britain as it is about football. It is a shame that Pitch Black isn't it.