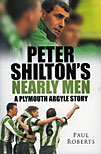 A Plymouth Argyle Story
by Paul Roberts
The History Press, £14.99
Reviewed by Josh Widdicombe
From WSC 276 February 2010
When Plymouth recently put forward its bid to become a World Cup city you can bet the word "potential" appeared pretty regularly between the matt-finish covers of its proposal. Plymouth Argyle's history is scarred with repeated failures to fulfil this somewhat abstract notion, never more gloriously than in the managerial reign of Peter Shilton.
Shilton joined the club in 1992, replacing David "Kempy" Kemp, a manager whose nickname reflected his old-style approach to the game. What followed was a tale of ambition and ego brought crashing down by personalities and addiction; a Shakespearean tragedy set in a world of goal bonuses and Deep Heat.
After failing to save the club from relegation Shilton twice failed to gain promotion, in the process constructing a team that made Kevin Keegan's Newcastle look conservative. Finally it all came crashing down in a season of bad transfer dealings, relegation and, most excitingly for the national tabloids, gambling debts.
Roberts's account of Shilton's tenure is impressively researched – with all of the major players except Shilton having their say – and told with an enthusiasm and an innate understanding of the subject that can only be possessed by a fan who was there at the time. Meanwhile, within the larger story, interviews with characters such as journeyman full-back Tony Spearing and the odious Peter Swan, who arrives at the club purely for the paycheque and leaves one of Plymouth's most unpopular ever players, wonderfully evoke a time when the only escape from the lower leagues seemed to be the Wimbledon way.
However, faced with such a surplus of material, at points Roberts seems blinded to the best way to tell the story. Events are illustrated with multiple players quoted with the same viewpoint while chapters can go by in a blizzard of results and statistics. On top of this the author has a tendency to grab for the cliched metaphor whenever possible. When Steve McCall travels down to sign for the club we are told, with more than a touch of Alan Partridge on Radio Norwich: "McCall may have thought he was on the road to nowhere, but he was signing for Argyle on the strength of Shilton's highway to heaven vision."
From the off it is clear that Shilton is a typical big name first-time manager whom fans and clubs put faith in due to their playing ability, rather than managerial experience. On day one he is a man out of his depth, producing a Clough-esque you-need-my-genius speech upon meeting his squad, but in doing so alienating himself from a dressing room of lower-league pros.
In the end it is financial rather than managerial mistakes that bring an end to Shilton's reign, although by this point the dressing room has descended into virtual anarchy. Shilton's final fall is examined in detail in the closing pages but it is clear these money problems were there from the day he signed on at the club. This was a match up that was never going to find a happy ending, but for that reason it makes a fascinating story.