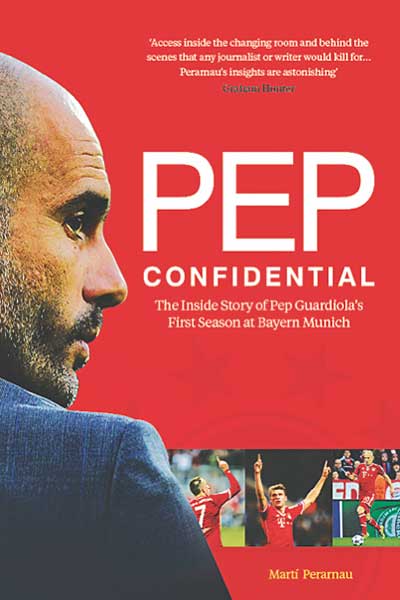 The inside story of Pep Guardiola's first season at Bayern Munich
by Marti Perarnau
Arena Sport, £14.99
Reviewed by Dermot Corrigan
From WSC 334 December 2014
During the 2013-14 season Bayern Munich had 279 training sessions over 326 days, while also playing 56 official matches and 14 friendlies. The team won four of six trophies entered, but the season was not seen as a success. All this was witnessed by author Marti Perarnau while writing this book. It begins as a typical enough season diary. Perarnau is a former Olympic high-jumper and now friend of Guardiola's, allowed daily access to Bayern's private training sessions. The inside story includes lots of previously unpublicised detail on the tactical exercises, choreographed group moves and regular video sessions Pep uses to introduce his "game philosophy" to his new team.
The concepts involved are meticulously described in a way sure to interest tactical buffs, and probably opposition coaches, but the language sometimes goes too far. Phrases like "belief system", "innovation" and "mission" appear regularly. His assistant calls Guardiola a "football revolutionary" who "deconstructs ideas". The biggest tactical innovation of the season is using full-backs as "false midfielders".
But Perarnau has not just written a book about cutting-edge football tactics or training methods. Pep Confidential works best as a character study of a worryingly obsessive individual, who appears to be driven mostly by a fear of failure. Just a month into the season Guardiola is "depressed, silent, brooding" at home, frustrated at an inability to get the players to understand his ideas. He regularly changes his mind on tactics and line-ups while preparing for big games, and gets so nervous on matchday that he cannot eat anything even before evening kick-offs. Guardiola leaves the post-match dinner late one night with his sleeping young daughter in his arms, while asking Perarnau to remind him in the morning to talk to Thomas Müller about his positioning. "I have so many doubts, I worry about everything and am secure about nothing," he tells the author in one of many such awkward moments.
Perarnau writes that Guardiola's "deep fear of coming under attack… was probably born during his playing career. He was physically fragile and lacked athleticism – rather on the puny side." His friend claims such "anxiety" is overcome through "audacity", arguing that "Pep has developed enormous courage precisely because of this fear". But it is the fear which dominates this book.
Even Guardiola's players appear to be concerned about their coach. Philipp Lahm says: "He's such a perfectionist… he can never allow himself to sit back and say 'this is brilliant'." Thiago Alcantara says similarly: "Pep will never enjoy football because he is always looking for what has gone wrong in order to correct it." The book ends with Perarnau saying "Guardiola's second year [at Bayern] promises to be even more intense". But it never seems to question whether so much intensity is positive for either Pep or his teams.