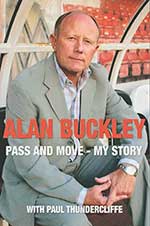 My story
by Alan Buckley with Paul Thundercliffe
Matador, £18.99
Reviewed by Tom Lines
From WSC 325 March 2014
Alan Buckley sits just above Matt Busby in the League Managers Association's Hall of Fame. Admittedly the list is organised alphabetically (it recognises the 18 managers who have taken charge of over 1,000 games in England) but Buckley's story is certainly worthy of closer examination. Not simply because of his record – he took Third Division Walsall to a League Cup semi-final against Liverpool and achieved back-to-back promotions at Grimsby – but the manner in which his teams played. Buckley was a sort of anti-John Beck, achieving success at unfashionable clubs on shoestring budgets by playing an unusually attractive brand of passing football.
From his early days as an apprentice at Nottingham Forest it is clear that Buckley has one eye on his long-term future and he recounts the bafflement of Forest's coaching staff when, at the age of 16, he casually announces that he has enrolled on an FA coaching course.Unable to establish himself at the City Ground, Buckley made his name as a prolific lower-league striker at Walsall, scoring over 20 goals in five consecutive seasons and earning a move to the First Division with Birmingham City in 1978. Persuaded to return to Fellows Park the following year, he became player-manager aged just 28, embarking on a 30-year career in management that included successful spells at Walsall and Grimsby as well as unhappier times at West Brom (his one shot at managing a "big" club), Lincoln and Rochdale.
Buckley is, by his own admission, an awkward character. Spiky, quick to anger and with little interest in what he dismisses as "the PR side of football" he spends a fair bit of time here recalling his bad behaviour and then apologising to those who were on the receiving end.
Many of the book's best moments involve the late Walsall chairman Ken Wheldon. A scrap metal dealer by trade, Wheldon has a mysterious padlocked phone in his office and is described as looking "exactly like Poirot", something confirmed by the inclusion of a photograph of him standing next to a man dressed as Elton John. The fact that, on closer inspection, it actually is Elton John reminds you what a reassuringly strange place football was in the 1980s. When Dave Mackay is linked with the Walsall job, Buckley demands to know whether there is any truth in the rumour. Wheldon spends half an hour rubbishing the stories and, suitably reassured, Buckley leaves his office – only to pass Mackay sitting in reception.
Buckley's time at Grimsby is more successful on the pitch but not as entertaining off it and the closing chapters are the most personal; his career enters a flat spin and he writes eloquently about the turmoil of being unable to turn around a failing team. For his longevity Buckley deserves his place in managerial history. But it's his dogged commitment to playing "the right way" that marks him out as one of the game's more intriguing characters.