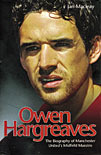 The Biography of Manchester United's Midfield Maestro
by Ian Macleay
John Blake, £ 17.99
Reviewed by Joyce Woolridge
From WSC 260 October 2008
This is a book that should have been written two years down the line, when hopefully Owen Hargreaves has managed to put in something like a full season and lived up to his premature billing here as "United's Midfield Maestro". Currently, the Canada-born player is yet again not gracing the Old Trafford, or any other, pitch with his sublime skills, though his return to ­fitness is expected soon. It is undoubtedly true that without Hargreaves's sporadic appearances Manchester United would not have won their two trophies last season, but the same could be said with more justification about most of the rest of United's squad. He also showed some promise as the "holding midfield player", the current mythical missing piece of the England team's jigsaw, when fit. But he is still a work in progress.
Before reading this biography, I confess to knowing little about Hargreaves, apart from the fact that the Guardian's Richard Williams considers him the only English player to have shown any quality in the last World Cup, which is not necessarily a recommendation. Some 291 pages later, I am still in the dark. The striking fact gleaned from it is that he has so far averaged fewer than 21 games a season. Bayern Munich's medical team apparently diagnosed his tendency to injury as the result of having one leg longer than the other and made him special orthotics. They don't seem to have worked. The German press wittily dubbed him "The English patient".
Hargreaves remains an elusive subject here. His career is pasted together from kicker ratings, football-chat websites and interviews. There are unilluminating accounts of England's failures in the Euros, which we are told would have been different if Owen had been ever-present. His midfield rival, Frank Lampard, is roundly vilified as a selfish, attention-seeking, pudgy, underachieving prima donna, while the underrated, handsome, slim, self-­effacing Hargreaves with his "banana grin" and luxuriant curls goes efficiently about his business.
Not that there aren't entertaining moments, though many of these are unintentional. The opening chapters groan under the weight of fascinating trivia, largely unconnected with football. Calgary, where Owen was born and spent his formative years, was ranked the "world's cleanest city" in 2007. The name Hargreaves means "grey thicket"; the most famous bearer of that name, apart from Owen of course, was Roger Hargreaves, author of the Mr Men books. Owen shares his birthday with Buzz Aldrin and Steve Bloomer.
Such random pieces of information are forced screaming into some kind of relevance. The Specials' Ghost Town topped the pop charts in 1981 (the year Hargreaves was born) and "speaking of Ghost Towns, 11,569 had crammed into a crumbling Stamford Bridge to see Chelsea Football Club lose 0‑1 to Cardiff City". Steve McManaman is described as legendary. A descendant of Mrs Malaprop seems to have done the ­proofreading, too. Ottmar Hitzfeld is "great at pains" and The Flowers of Manchester is "reverently spoken of, narrowly sung". And a variety of unlikely authorities are quoted throughout, from Thuycidides to Rommel, the latter perhaps slightly tastelessly in praise of Bayern's youth-team's training.