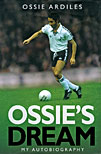 by Ossie Ardiles
Bantam Press, £18.99
Reviewed by Adam Powley
From WSC 275 January 2010
There's a telling description of Ossie Ardiles that the World Cup winner recounts early on in this suitably idiosyncratic book. His unnamed former manager at Huracán joked: "You know what number you should be wearing? You should be wearing a question mark on your back!" Difficult to tackle on the pitch, Ardiles is similarly elusive to pin down on the page. His intelligence and insight is obvious but the reader is left with only a partial portrait.
At times this is a frustratingly understated study of a pivotal figure in the development of the modern British game. Ardiles was one of the pioneers who transformed an insular footballing culture into one that now embraces outsiders with open arms and cheque books. Eric Cantona, Gianfranco Zola, Dennis Bergkamp et al all owe a debt of gratitude to Ardiles and compatriot Ricky Villa for proving that foreign players could succeed amid the rough and tumble. But for all Villa's Cup heroics, it's Ardiles who had the greater long-term impact.
A chess-playing strategist, he tells the story the way he played: articulate and perceptive, he probes around the matter at hand and provides a killer comment when it counts. Fans of bawdy dressing-room anecdote will be left wanting. Devotees of philosophical reflections will be delighted. "Those who make it to the top are flexible. Those that aren't crumble and die," makes a nice change from taking each game as it comes.
Perhaps Ardiles's unconventional background explains the individuality. He came close to the lethal dangers of living in Argentina during the junta, marrying the daughter of a colonel who was part of a regime that "disappeared" thousands. Ossie tells how he came under gunfire during an attack on his father-in-law's house, flirted with politics as a law student and in the meantime played a major role in Argentina's 1978 World Cup win. All this before he even embarked on his long, eventful love affair with Spurs and with a war between the two countries he loved most still to come. The conflict cost the life of one of his cousins. "I don't wish to dwell on the details," writes Ardiles at one point, but in the light of such testing experiences, perhaps his reticence is understandable.
Factor in a peripatetic managerial career that took in promotions, corruption scandals and successful ventures into the Far East, not forgetting, of course, a plum role in Escape to Victory. We are left with a plot rich in intrigue, drama and a fair splash of superstar glamour. That Ossie's Dream doesn't quite relate the story in pot-boiler fashion may disappoint some, but this is a football story to its core, not a soul-baring confessional. Another former manager, Humberto Melo, once said of Ardiles that he "breathes football through every pore". If the point of autobiography is to hold a mirror to the subject then this is a book with an appropriate focus, albeit an occasionally narrow one.