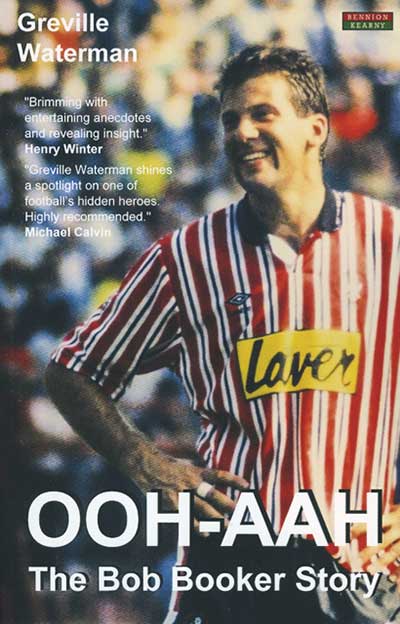 Bennion Kearny, £12.99
Reviewed by Chris Dean
From WSC 371, January 2018
Buy the book
This account of Bob Booker's 33 years in the game at Brentford, Sheffield United and Brighton is a lovingly crafted story of a career which, although it only ended at the start of this decade, bears little resemblance to the life of today's footballer. Greville Waterman is a staunch Brentford supporter but it is to his credit that Booker's time at the Blades and Seagulls is as meticulously researched and chronicled as much as his time at Griffin Park.
Booker was a journeyman whose determination to succeed and natural athleticism overcame a lack of natural talent and which, after a less than stellar start at Brentford, eventually propelled him to the old First Division under Dave Bassett at Sheffield United and turned him into a cult hero at both clubs.
Starting as a parks footballer in Hertfordshire, having completed his apprenticeship as an upholsterer, in 1978 he exchanged a £200-a-week wage for £60 a week and a £250 signing-on fee at Brentford. An unlikely early hat-trick in a 7-2 win against Hull raised expectations but he soon became the target of abuse from the crowd, many of whom would have been earning far more than him. But he eventually won them over by his wholehearted endeavour and willingness to play in any position. A similar transformation took place at Sheffield United whose style under Bassett in their rise from Division Three to the old Division One was ideally suited to him. Throughout the story Booker can't quite really believe that all this is happening to him.
Booker crosses paths with various heroes and villains from that era including Vinnie Jones, Barry Fry, Terry Hurlock and Steve Coppell. Plus Bradley Walsh. After the two met in local football in Hertfordshire, Booker recommended Walsh to Bees manager Bill Dodgin who would take him on away trips to entertain the players on the coach. He eventually left Brentford without making a senior appearance, realising he would be more successful as an entertainer. Meanwhile, those who witnessed Brentford's 3-0 defeat to Wigan in the 1985 Wembley Football League Trophy final will not be surprised to learn that preparation took place in the bars and clubs of Corfu on a premature "post-season" holiday. There is also an entertaining on-pitch spat with Carlton Palmer at Bramall Lane and a shocking account of David Webb callously cancelling Booker's contract after the player suffered a bad injury in his second spell at Brentford. This is somewhat mitigated by Webb's later offer of a coaching job which leads to 15 years working at Brighton under six different managers.
Booker eventually retired in 2010 and is earning a living as a driving instructor. Waterman's book is a compelling tribute to Booker's commitment and loyalty to just three clubs and it is also a reminder of an era a relatively short time ago when the lifestyles of ordinary footballers were not so far removed from those who pay their wages.