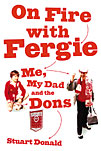 Me, My Dad And The Dons
by Stuart Donald
Hachette Scotland, £ 12.99
Reviewed by Keith Davidson
From WSC 284 October 2010
Despite the title, this book has nothing to do with Sir Alex Ferguson and his time at Pittodrie. Instead it's a memoir by Stuart Donald, looking back on his childhood as a Perth-based Aberdeen fan in the late 1970s and 1980s, and how his relationship with his father developed while they watched the Dons together during the club's most successful era.
Although Donald's family was from the north-east, his father's teaching career had meant a move to Perth so the youngster grew up away from the Granite City. His dad remained Dons-daft, however, and the book starts with a nervous five-year-old being woken by Donald senior going mental in front of the television as Aberdeen destroyed Rangers in a League Cup semi-final in October 1976. It ends with an inevitable, pivotal teenage moment nearly 11 years later when the author decided that there were better things to do on Saturdays than go to the football with his old man.
The intervening story is told through the eyes of the writer's younger self so there is a great deal about the micro-anthropology of attending school in Perth, while readers of a certain age will be prompted to recall long-ignored memories of anti-social or plain violent Old Firm fans from that period. In February 1982, for example, Aberdeen beat Celtic 1-0 in the Scottish Cup at Pittodrie and the visiting supporters rioted afterwards, chasing the police down the street, let alone anyone in a red and white scarf. Donald was there and he was petrified.
When father and son drove to Firhill to see Aberdeen play the eternally inoffensive Partick Thistle in the Scottish Cup, in March 1983, junior was freaked out by dad's insistence on displaying a windscreen sticker: Aberdeen – Home Of The Magnificent Dons. This was removed only after some locals on the outskirts of Glasgow threatened to smash the car windows then lobbed a brick at the Donalds' old Rover P6. Even when Rangers secured the championship at Pittodrie in May 1987, their supposedly joyous fans invaded the pitch, ripped up the turf and destroyed goalposts and seating.
What's different about Donald's account of these outrages is his candid admission of fear – he was a terrified kid in the face of a mature and unaccountable violence. His wider perplexity at Celtic fans with their IRA songs, and Rangers fans with their Unionist symbols, is laid bare but not analysed. Bafflement in the face of the adult world is hardly unusual at that age though – interpretation comes later.
Ultimately, the book is a slice of unreflexive reportage from the front lines of growing up, with no stated conclusions about family and identity, no emotional lessons explicitly drawn and an all too abrupt ending that leaves too many questions unanswered for the reader. Its detail and honesty shine a light into murky corners of late 20th century Scottish history, however, and the Rudolph Hess joke will make you laugh out loud. Unless you support Rangers.
Comments (1)
Comment by ZoltanBuchan 2010-09-30 14:13:24