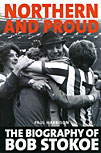 Northern and Proud
The Bob Stokoe Story
by Paul Harrison
Know The Score, £17.99
Reviewed by Joe Boyle
From WSC 269 July 2009

Left Back In Time
by Len Ashurst
Know The Score, £17.99
Reviewed by Joe Boyle
From WSC 269 August 2009
As Sunderland head for next season with another new manager, where are the templates for managerial success on Wearside? Bob Stokoe is the obvious choice but, on the evidence of two recent books, a more nuanced understanding of the club and the game comes from Len Ashurst, another former Sunderland boss.
For Ashurst, the club's malaise goes back as far as 1964, when manager Alan Brown was inadequately rewarded for leading the club back into the top flight. Ashurst, a long-standing player for the club, is convinced Brown's side could have made a genuine impact. Instead, momentum vanished and the club reverted to its vacillating norm.
Stokoe reignited hope but was unable to build on the 1973 Cup triumph. Soon after, old rifts within the squad reopened, players left and a couple of promotion opportunities were squandered. By the time they were promoted, Stokoe was exhausted and lasted just nine games of the new season.
Following a playing career spent almost entirely at Newcastle, where he won the 1955 FA Cup, Stokoe managed largely in the north-west. He switched with dizzying regularity between moribund clubs such as Bury, Rochdale and Carlisle, knocking disinterested players into grumbling shape, sometimes succeeding, often bumbling along before finally falling out with the board.
Author Paul Harrison's fondest memories are of Stokoe's second stint at Carlisle when the club was promoted to Division Two and looked set for the top flight before the board withheld additional funds late in the season.
There are plenty of anecdotes, not least feuds with players, chairman, WAGs and Don Revie, but Stokoe remains a drab caricature. He makes much of being northern and proud but defines this as little more than being "honest". There is nothing on being a working-class northerner in the febrile atmosphere of 1960s London, during a miserable spell at Charlton; nothing about the impact of Sunderland's Cup win while the north-east suffered from a punishing recession; nothing about the familial pressures of constant upheaval. Stokoe is stripped of context, be it cultural, political or personal, as if football exists in a self-sealed bubble. And football, deprived of context, is often tedious. Harrison's book is a transcribed interview: Stokoe talked, Harrison wrote it down but failed to ask the interesting questions.
The contrast with Ashurst is stark. From Merseyside to Newport, his world is peopled with jokers, bullies and the unscrupulous on the make. Nothing is out-of-bounds: poetry; homophobia; the minimum wage; run-ins with the Stasi; and surreal insights from time managing in the Middle East. At times, essays on the betrayal of grassroots football and the game's values make the book read like a Daily Telegraph editorial. Ashurst, however, is comfortable enough to reveal himself as a ferocious left-back and an antique-loving, share-dealing, museum-visiting polymath.
For fans of the clubs touched by these men, there is plenty of detail to keep them happy, though no blueprint for managerial success. But for those interested in a period that was turbulent both on and off the pitch, Len Ashurst's flawed but bubbling book, full of character studies and vignettes, is recommended.