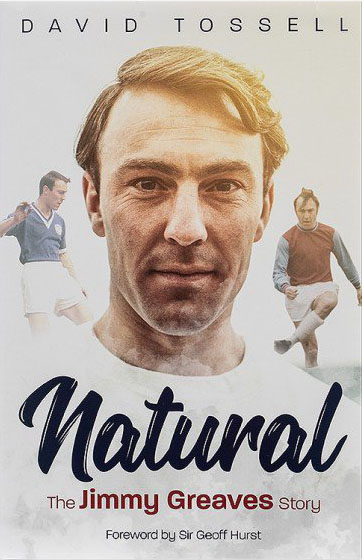 Pitch Publishing, £19.99
Reviewed by Alan Fisher
From WSC 387, June 2019
Buy the book
Several years ago, the river near my house burst its banks. As the floodwater engulfed the shed containing my Spurs memorabilia, I managed to grab one folder, preserving a personally signed photo of Jimmy Greaves scoring against Newcastle in October 1969. Picking up the ball on the halfway line, Greaves weaved through the defence, a slight figure gliding over the mud with the ball a yard or so in front of him before stroking it into the net. His distinctive style and effortless finishing left an indelible impression. Greaves became my hero, then and now. I've never seen a better goal or a better striker.
Greaves' eye for an opportunity plus acceleration over five or ten yards gave him the time and space in the box, a peerless taker of chances, many hit first time, low and into the corners. His record is outstanding, 366 goals in 526 league appearances, 44 in 57 England games. He made his debut for Chelsea in 1957, then after a short and unhappy spell with AC Milan, Spurs manager Bill Nicholson brought him home to energise the Double-winning side of 1961, famously for a fee of £99,999 to prevent him being the first £100,000 player. It's for his time at White Hart Lane that he is best remembered, the club's record goalscorer revered by a generation of supporters.
A stream of anecdotes and interviews with contemporaries leave you in no doubt as to his talent and good nature, but the book's strength is author David Tossell's desire to find the man beneath. Greaves did not necessarily feel that he fitted in. His laid-back personality and lack of workrate labelled him as a luxury, while his move to Italy aged 21, one of only a handful of British players with the temerity to leave the Football League, was accompanied by unjustified accusations of greed and disloyalty. This outsider perspective also offers an insight into the English game during the 1960s, a period of change.
Tossell's approach to Greaves' decline is honest and sensitive. He searches beyond the disappointment of being left out of the 1966 World Cup-winning team and the pressures of football's drinking culture, of which Greaves was a willing participant, to reveal a man struggling to cope as his natural abilities faded and who never addressed the pain of losing his son, Jimmy junior, who died in 1961 aged four months.
A searing passage about his alcoholism and the effect of drink-fuelled violence on his wife and family comes in stark contrast to the self-effacing young star who always had time for his friends and was happiest in the dressing room among trusted team-mates. This moment then forms the beginning of his recovery and redemption as Greavsie, the pundit and television personality.
Tossell keeps the story moving through each phase of his career without resorting to the padding sadly familiar to readers of many football biographies. This perceptive book restores a neglected figure to due prominence. Highly recommended.