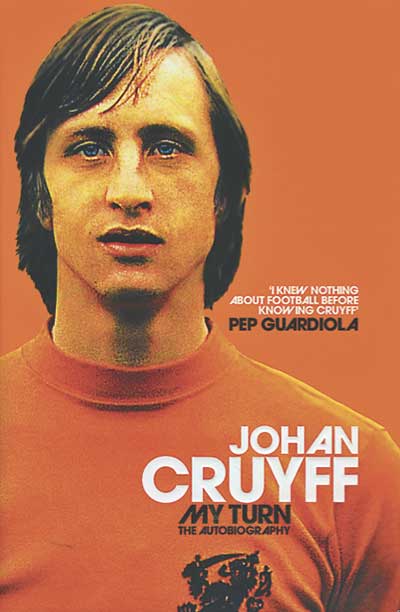 Macmillan, £20
Reviewed by Jonathan O'Brien
From WSC 361, March 2017
Buy this book
Until just over a year ago, one of Dutch football's most familiar weekly rituals was the act of turning to Johan Cruyff's column in the Amsterdam broadsheet De Telegraaf each Monday morning. Reaching for his freshly dipped poison pen, the great man would invariably either get stuck into the Eredivisie donkeys whose huffing and puffing over the weekend had failed to meet his standards, or have a few colourful digs at his enemies in the Ajax boardroom. It usually reeked of smug self-righteousness and stale hypocrisy, but everyone still read it.
It and its cranky creator are gone now, of course. It's not a huge surprise that Cruyff's posthumous autobiography fails to live up to its vast potential, but it's still a disappointment. And what's most frustrating about it is his apparent lack of interest in the fine print of his own golden career.
Epochal feats are routinely covered in a short sentence or two, for example: "In 1971 we won the European Cup for the first time, and won it the next two years as well." That's it. One of the greatest sporting achievements of all time, dealt with in 20 dry words. The 5-1 rout of Liverpool in 1966, perhaps the single best result in Ajax's history, is recalled in the kind of terms usually reserved for a software update or a successful operation on the sinuses ("We had confirmation that we were technically superior").
When Cruyff gets to the 1974 World Cup final, he makes no mention at all of his own performance, in which he spent most of the day at right-back. (Meanwhile, on page 51, it's asserted that goalkeeper Jan van Beveren missed the World Cup because his distribution was inadequate; in fact, Cruyff forced him out because he wouldn't hire Cruyff's father-in-law as a financial adviser.)
In short, anyone wanting to hear, for example, the inside story of what went on when Barcelona were crushed by Milan in Athens in 1994 – well, I'm afraid you've come to the wrong place. The question of why Cruyff stayed away from management for good after Barcelona sacked him in 1996 is never really answered, apart from some dark hints that he found all the boardroom Kremlinology deeply distasteful. In view of his later inability to stop meddling in the affairs of Ajax, this is a bit rich (on page 232, he comes out with the priceless observation that "within Ajax, there's still too much politics going on"). And almost half the book dwells on his uneventful post-Catalunya years, with another 15 pages devoted to son Jordi's respectable but prosaic playing career.
Any Dutch football man worth his salt should be able to cobble together a lively memoir, and Cruyff is the alpha and omega of such types. But as you plough through chapter after watery chapter of My Turn, you keep thinking: this guy spent three decades as one of European football's godheads, winning nearly everything and falling out with several hundred thousand people along the way, he ought to have an absolute sackload of great yarns to share… but where are they? Where's the good stuff? A collection of his score-settling sideswipes from the archives of De Telegraaf would have been preferable to this. It would also have been a lot more amusing.