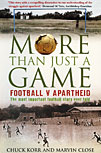 Football v Apartheid
by Chuck Korr & Marvin Close
Collins, £17.99
Reviewed by Mike Ticher
From WSC 264 February 2009
In 1986 Charles Korr, an American academic, wrote a serious and unusual history of West Ham. Since then, just one book, on baseball. One reason for that sparse output becomes clear when he explains that More Than Just A Game (originally a film) began as long ago as 1993.
That was when he opened the first of 70 boxes marked "Robben Island Sports''. Inside were the records of the Makana Football Association and other sporting bodies created by inmates of apartheid's most notorious prison. Fifteen years sounds a long time to document such a tiny organisation, but the size is an illusion. It may not be "the most important football story ever told'', as the publishers insist, but it does offer an almost miraculous insight into the struggle against apartheid.
What Korr found was a meticulous record – often in tiny writing on precious scraps of paper – of the prisoners' fight to be allowed to play football, then to organise their league with ever increasing sophistication. Their stubbornness and solidarity, under the harshest conditions, are staggering. From December 1964, each Saturday inmates took it in turn to ask simply: "We would request to be allowed to play football.'' At first they were punished just for asking, but after three years, with the help of the Red Cross and the anti-apartheid MP Helen Suzman, they won.
Even more telling is their fanatical attention to detail and formality in writing constitutions, forming committees, imposing disciplinary sanctions, training referees and logging results. Everything was done by the FIFA rulebook, which, by chance, was among the few books in their library. For this was serious business. Football was not just a release from the physical and psychological torments of imprisonment. It served to ease (mostly) tensions between the ANC and Pan Africanist Congress prisoners. But above all it gave the inmates a vital space of their own, a means to demonstrate that they could govern themselves – and, by implication, the country. And so they did. Many involved in organising Robben Island football went on to positions of power, including the current political heavyweights Jacob Zuma (president of the ANC) and Mosiuoa Lekota, the former defence minister who recently started a rival party.
Korr's book (the project is essentially his) is excellent on the extraordinary sacrifices made to set up and run the original league. The later period, when football was rejuvenated by a new generation jailed after the 1976 Soweto uprising, gets much more cursory attention. Also disappointing is his strange use of the dozens of interviews he conducted. Almost nothing is told through direct quotes, giving the story a curiously second-hand feel that sits oddly with the intimacy both of the men's lives and the relationships Korr developed with the key actors.
For all that, it's an astonishing tale. It would have been tempting for Korr to exaggerate football's importance, but I suspect he did not need to. In the late 1960s the most popular books on Robben Island were Das Kapital and Soccer Refereeing by the Labour MP (and anti-apartheid activist) Denis Howell. It's my guess Howell's philosophy influenced the new South Africa at least as much as Karl Marx's.