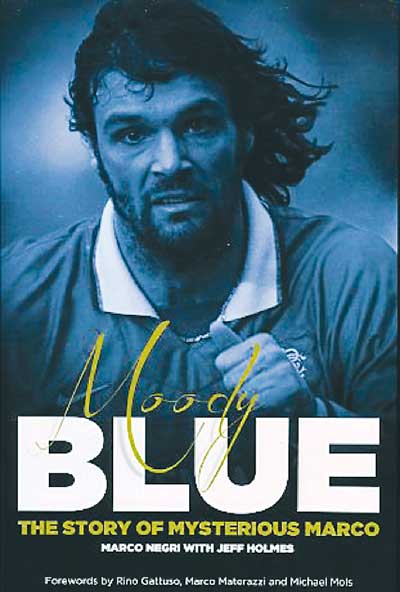 The story of the mysterious Marco
by Marco Negri with 
Jeff Holmes
Pitch Publishing, £20
Reviewed by Jonathan O'Brien
From WSC 342 August 2015
Oleh Kuznetsov, Alan McLaren, Seb Rozental, Daniel Prodan: Rangers had more than their fair share of expensive crocks in the 1990s. But easily the strangest tale was that of Marco Negri, who started off as a superhuman goal-machine and ended up as a Winston Bogarde-like byword for lethargy as his contract slowly dribbled away. Moody Blue is his sporadically diverting attempt to set the record straight.
Readably ghostwritten by a Scottish journalist, Moody Blue is dominated by Negri's time at Rangers, even though he only played 42 times for them. Signed by Walter Smith for £3.75 million along with several other Italians, his stats for the first half of 1997-98 were fairly special, even in a lopsided SPL. From August to December, he averaged more than a goal a game, scoring 33 times in 29 matches. Then it all abruptly ended when he suffered an eye injury during a game of squash with team-mate Sergio Porrini. Hospital treatment didn't prevent him being out for months, and his irresistible momentum faded away overnight.
Moody Blue is good on the grotesque culture-clash stuff that characterises books by foreign imports in British football. On one occasion, Negri and Gennaro Gattuso decided to "eat like the Scots before a match, just once". A few hours later, during the game, Gattuso found himself incapable of belching, and thus unable "to dislodge the rock inside our stomachs". Negri also couldn't get used to the uninterrupted flow of SPL matches, remarking that he played in games during which "the referee intervene[d] fewer than ten times".
Negri got on well with Smith (until the end), but not with assistant coach Archie Knox, who he says picked on him in training. After Rangers were routed by IFK Gothenburg in a Champions League qualifier, Knox hairdryered him in the dressing-room in front of everyone: "Ten minutes of hell, as the attack was aimed especially at me." To return to the belching theme, he also accuses Knox of often burping loudly while speaking, the polar opposite of Smith, who was apparently "always the epitome of elegance".
Another nemesis was Ian Ferguson, who regularly addressed him as "fucking Italian". The feeling was mutual. Negri nicknamed the midfielder "piedi di padella" – which meant pan-feet, or iron-feet, as I didn't consider him a player of great class". Lorenzo Amoruso was a much bigger enemy, "the type of person who would travel around the world so that it could see him". Negri accuses the defender of meddling in his private life, and of backstabbing him by passing comments made in confidence on to the unamused Smith.
Negri doesn't heap all the blame for his stop-stop career on others. Now 44, he admits that his 27-year-old self was bursting with "conceit and arrogance". He scores just three goals in the second half of 1997-98, falls out with Smith over the manager's "no beards or stubble" rule and, with zero interest in playing alongside Amoruso (whom he realises will be the captain for 1998-99), slides into a physical torpor. Rangers owner David Murray rings him at home one evening to resolve the situation, cops a mouthful of abuse – an incident which Negri recounts here with obvious mortification – and stops his wages there and then.
And that's more or less that, apart from a loan spell at Vicenza, more injuries, three appearances in three years and a bizarre HIV scare after a blood test turns up some unexpected results. Fifteen minutes against Sturm Graz in October 2000, his only ever appearance in the Champions League, are how he signs off. "Looking back, I am proud of the career I made for myself," he says near the end, though you wonder if he truly believes it himself.