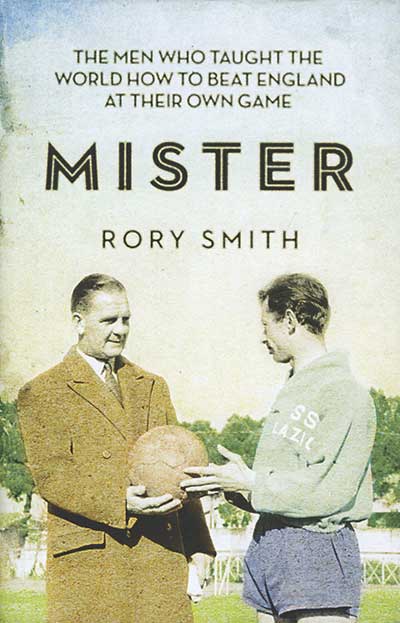 The men who taught the world how to beat England at their own game
by Rory Smith
Simon & Schuster, £18.99
Reviewed by Andy Brassell
From WSC 353 July 2016
Mister is the story of England's (and its coaches') role as a football missionary, spreading the gospel across the continent and beyond until the point when the pupils overtake the master – and keep going until the latter is a mere dot in the distance.
There can be few better placed to write such an account as Rory Smith, given a floating role by the Times and thus as well-travelled and erudite a journalist as you will find among the dailies. An easy, conversational style is shot through the pages of this book, encouraging a protagonist such as Alan Rogers, now 90 and a coaching nomad who remains a hero in Iran, to pull out his best tales.
Rogers is a good example of the well-told anecdotes that lift this book way above the realms of straight historical chronicle, though it works well as that too – Smith says that the original plan was a series of vignettes on these English adventurers, before a continuous narrative presented itself.
There's the story of Fred Pentland, on his way to a coaching clinic in Strasbourg in 1914 when war broke out with Germany, leaving him trapped as an eventual prisoner of war. Post-war, Pentland went on to introduce a short-passing game in his first spell at Athletic Bilbao in the early 1920s, joining Real Madrid before returning to lead the Basque club to two doubles in the following decade.
Via William Garbutt, Jimmy Hogan (who set the wheels in motion for Hungary to evolve into the Mighty Magyars) and George Raynor, who led Sweden to the 1958 World Cup final, the lineage is clear. The one that is particularly vivid in today's context is the portrait of Vic Buckingham, who inspired Bobby Robson at West Bromwich Albion in the 1950s before taking on a young Johan Cruyff at Ajax, and setting the ground for the modern identity of the Amsterdam club and then Barcelona in terms of philosophy and youth training. Rinus Michels directly succeeded Buckingham at the Nou Camp.
With that said, it gives due deference to one of the forgotten forefathers too – Jack Greenwell, the man from County Durham who Barcelona's founder Joan Gamper appointed as the club's first full-time head coach in their history. Greenwell was a true man of mystery. Little is certain about what took him to Spain, or how he got out when civil war broke out, but he made forays into boxing and tennis while there before later making his mark in South America.
The candour of Smith's writing is one on the book's most endearing traits, whether resisting the temptation to fudge the unknowns in Greenwell's tale or refusing to gild the story of Robson, which is regularly the case with tributes to the former England boss. It is often forgotten that Robson was pilloried for agreeing a deal to join PSV Eindhoven on the expiration of his England contract before the 1990 World Cup, but Smith doesn't duck that.
A look at Roy Hodgson, whose foreword begins the book, takes it full circle. Hodgson may be an urbane man, but there's acknowledgment that a lack of opportunities took him abroad as much as curiosity. Some more of the latter trait would not got amiss nowadays though as Smith writes, England can be proud of much of its role in this story.