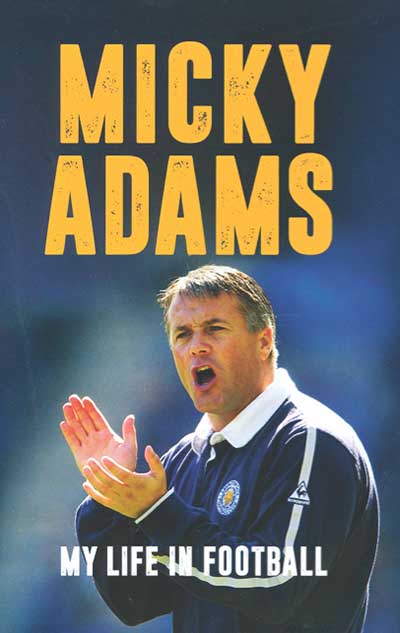 by Micky Adams & Neil Moxley
Biteback Publishing, £20
Reviewed by Neville Hadsley
From WSC 372, February 2018
Buy the book
By his own admission two words haunt Micky Adams. La Manga. In March 2004 Adams, then manager of Leicester City, took his players for what he thought would be a bond-building winter break to the sports resort in Spain. Within days of arriving a large chunk of his squad were in a police cell accused of rape and the media were having a field day. The story fell neatly into the narrative that the tabloids craved: obesely overpaid Premier League stars in drink-and-sex debauchery.
The truth, which limped in after everyone had moved on, was that there was insufficient evidence of a crime and all charges were dropped. But it affected Adams enormously and, arguably, set him on a path of struggle that eventually led him to managing in Sligo in the Republic of Ireland.
Gritty and passionate beyond bloody-mindedness, Adams raises cutting your nose off to spite your face to an art form. He may call it principled, but sometimes, as each job unravels, you can only shake your head. Yet the honesty of his approach is matched only by that with which he tells his tales.
His reputation as a disciplinarian who worked wonders with no budget was the opposite of the image that he feared stuck with him after the shenanigans in Spain. As a player it seems he fell out with just about every boss he played for; yet I, as I suspect most fans, loved him for his dedication and effort.
He tells plenty of tales of the underside of the game. At Coventry as a top-flight player in the mid 1980s he was so poorly paid he collected scrap metal in the hours before training and manager Bobby Gould had to pull in some favours with a local firm to get him a carpet. His clashes with Howard Wilkinson at Leeds over fitness led to him punching the physio so hard it sent the hapless man's false teeth across the room. At Southampton Adams recalls being sent off for punching Ray Wilkins and stamping on Brian Laws before blithely declaring later that he "was never any trouble" to managers. Earlier he recalls Saints boss Chris Nicholl's post-match sessions with the players which largely consisted of giving each a one-word assessment of their performance, the most common being "shit".
His magnificent accounts of his time as a manager – at Fulham, Swansea, Brentford, Nottingham Forest, Brighton (twice), Leicester, Coventry, Port Vale (twice), Sheffield United and Tranmere – all confirm what we already know: that football chairmen are, by-and-large, devious idiots.
There are memory lapses. Frank Sinclair's "spectacular own goal" against Middlesbrough in 2001-02 did not "sail over the goalkeeper's head", as YouTube confirms. And his baffling choice of Alan "Corky" Cork as his go-to assistant is comic. Yet Adams tells his story – through Sunday People chief sports writer Neil Moxley – with blistering honesty and singeing gusto. It's an essential read for any supporter wanting to know what really happened in those pivotal moments in their club's history.
The saddest part for me, although Tranmere fans may disagree, was his time at Sheffield United. A Blades fan all his life, the job was irresistible – and impossible. Failure was painful for him and his family. But it's not all doom and gloom: at least Adams' promise to Richard Keys that he would punch him in the face next time he sees him still stands.