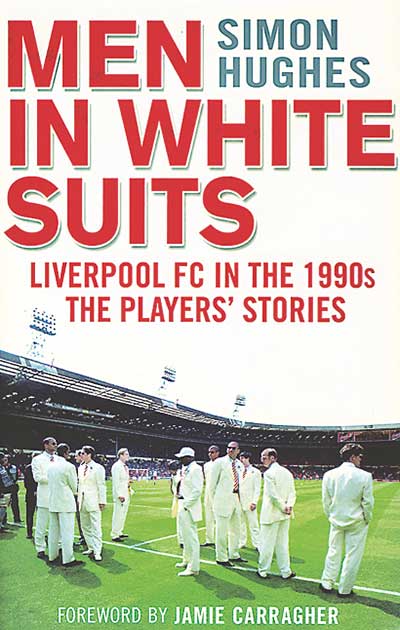 Liverpool FC in the 1990s – the players' stories
by Simon Hughes
Bantam, £18.99
Reviewed by Rob Hughes
From WSC 340 June 2015
Among the insightful voices in Simon Hughes's book, John Scales cuts to the issue most succinctly. "Money changed the game and it's no surprise that a club with socialist principles was the first to fall by the wayside," he says, referring to the ethos promoted by Bill Shankly, the manager who revolutionised the club in the 1960s. The 1990s was a time of rapid change in English football, where big clubs became global businesses, revenue flooded in from international TV deals and wages ballooned. This increased market competition, however, was just one of the many factors in Liverpool's decline.
Much like its predecessor, 2013's Red Machine: Liverpool FC In The 1980s, Hughes's tome tells the story through interviews with a number of former players and managers. Alongside Scales we have Jan Molby, Jamie Redknapp, Jason McAteer, Graeme Souness and Roy Evans, among others, all of whom look back on their Liverpool tenure with a variable mixture of pride, regret and, occasionally, a little bitterness.
The title of Men In White Suits recalls the team's ill-advised Wembley walkabout before the 1996 FA Cup final, decked out in flashy Armani gear, and provides the ready metaphor for Liverpool's failings under Evans. Here was a team capable of the most flamboyant football, but who seemed to lack the required focus and discipline to win trophies: all silk and no steel.
What quickly becomes clear, sifting through the various testimony, is that Liverpool were undone by their own past success. Coaches and management still relied on the same procedures, diets and training methods (even continuing to use the rotting wooden boards at the Melwood training ground for shooting practice) that had sustained the club throughout the 1970s and 1980s. Other clubs, meanwhile, had moved with the times and had adopted a more sophisticated ideology. And when it came to the transfer market (shipping out Peter Beardsley and others before their prime; investing in the likes of Julian Dicks, Paul Stewart and Nigel Clough) it all got pretty embarrassing.
The conclusions of those involved are often fascinating. Both Redknapp and Molby agree that Souness's management style was unnecessarily aggressive, intent on changing too much too soon. Souness himself, with engaging candour, concedes that he blew his chance and that it was the right job at the wrong time. Evans, too, is big enough to admit some shortcomings, not least the gung-ho attitude to attacking football when grinding out results was often the better option. Although he bristles at the suggestion that he was too much of a nice guy to rule effectively.
The potential to reclaim old glories was certainly there, assert McAteer and Scales, but they attribute Liverpool's inconsistency to the lack of experienced, "streetwise" leaders on the pitch. And, for fans such as myself, it makes me wince to read how Souness turned down the chance to sign both Peter Schmeichel and Eric Cantona before they were anywhere near Manchester United's radar. Inconstancy, woeful transfer dealings, lack of leadership and an inability to compete with the top clubs around them. Thank God those days are over.