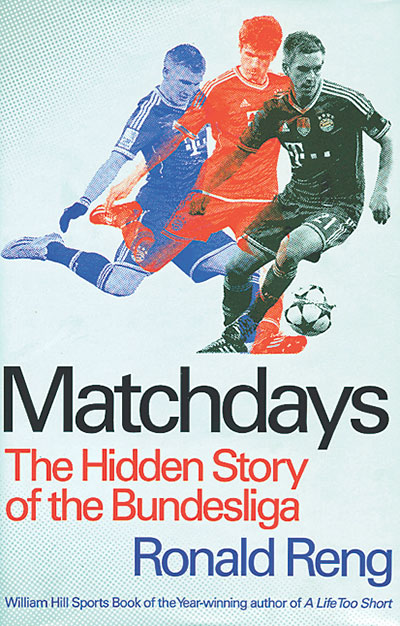 The hidden story 
of the Bundesliga
by Ronald Reng
Simon & Schuster, £18.99
Reviewed by John Van Laer
From WSC 341 July 2015
Its front cover shows three members of the all-conquering Bayern Munich and Germany teams of 2014, but Matchdays is not an exposé of the machinations of the modern football industry. Instead, author Ronald Reng recounts the life and experiences of Heinz Höher, a winger who played in the first seasons of the Bundesliga and went on to manage a series of clubs without ever enjoying any lasting success.
Growing up in post-war Germany, Höher had seemed to epitomise a new generation of sportsmen in the land of the economic miracle. Breaking with accepted tactical wisdom and daring to grow his hair long, he came close to playing for the national team aged 20. However, a knee injury caused by a foolhardy skiing trip in the final winter break before the start of the Bundesliga robbed him of the acceleration that had been his trademark. Unable to express himself on the field, Höher was only able to overcome his taciturn nature off it with "two beers and a shot", on a regular basis. He was not alone in this – being able to take a drink was part of what was expected of this first generation of professional sportsmen in the new Bundesliga.
Despite his tactical innovations, modern training methods and acceptance of the role of the new medium of television in his sport, Höher was never able to reach the pinnacle of the game, whether in Germany or at his various jobs in Greece or Saudi Arabia. He remains Bochum's longest-serving trainer, and is also the only Bundesliga manager to have survived a players' revolt, as the president of Nuremberg chose to sack half the first-team and support Höher in a 1984 dispute. The critical problem seems to have been his inability to articulate his thoughts and ideas verbally: over the years, Höher wrote to managers, players and journalists but could not discuss problems face to face. This lack of communication cost him dearly after he moved up to the role of general manager in Nuremberg, an unsuccessful tenure that remains his last role at the top level of German football.
Höher's later years have been a mixture of obsessive support and training of promising young players and a constant search for gainful employment to ward off the temptations of online gambling, property speculation and alcohol, all of which have cost him a large proportion of his earnings. However, now dry since 2010, the 76-year-old Höher can look back lucidly, recognising his failings as a person and as a professional. Meanwhile, he is also able to see that his beloved football is constantly reinventing itself – and can prove that modern "game-changing" innovations such as Spain playing without an out-and-out striker were in fact tried out by his VfL Bochum side in 1977.
Matchdays was awarded a major prize for non-fiction in 2013 and James Hawes's translation from German is sometimes rather literal but retains much of the easy style of the original. If a little long at over 400 pages, this is a fascinating look back over the last 50 years of the Bundesliga, and of the changing role football continues to play in Germany.