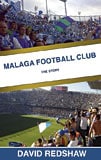 The Story
by David Redshaw
Troubador Publishing, £9.99
Reviewed by James Calder
From WSC 289 March 2011
Admirable though it is, David Redshaw's history of the club he has been following since the late 1980s is not without its flaws. The organiser of a sizeable band of Malaga-supporting foreigners known as the Guiri Army, the ex-pat fan has trawled a variety of sources to piece together a history of football in the city, from the first match in Easter 1904 through to Malaga CF's final game of 2008-09.
His labour of love begins promisingly by detailing the obstacles Malaga's nomadic footballing pioneers faced in establishing the game, among them a flu epidemic and a dearth of suitable pitches. Anecdotes such as local nuns demanding donations before returning balls found within the walls of their convent add colour to Redshaw's account, as does his initial willingness to stray off-topic. By touching on the origins of the term La Selección and Barcelona's struggle to survive the Spanish Civil War, he keeps the wider context in view.
Sadly, having dealt with the war and Malaga's early troubles, Redshaw clings to a plodding season-by-season format, faithfully relating chronological tales of relegation and promotion – not that he is the first to make that mistake. "Relegation was clearly a massive setback," he notes of their 1951 demotion. With Malaga later acquiring a reputation as a yo-yo club, such statements become the norm, slowing the narrative drive established in the early chapters.
As a succession of presidents, managers and players come and go, the author becomes bogged down in the detail. Though temporary relief is provided by a match-fixing scandal and an unsolved murder, you're left wishing that Redshaw had taken a more selective approach to his material and spent more time, for instance, explaining the causes of the financial problems that led to the disappearance of CD Malaga in 1992 and the subsequent founding of Malaga CF.
Hemmed in by the restrictive format, Redshaw also fails to give his fellow fans a voice, which is curious given their prominence in illustrative photos and his own status as a supporter rather than a writer. Though the exploits of club legends such as Sebastian Viberti are dutifully recorded, some first-hand accounts would have brought them off the page.
In his three-volume opus The History of Britain Simon Schama dedicates little more than a page to the Wars of the Roses. After all his painstaking research, it is a pity David Redshaw wasn't as dismissive of some of his adopted club's less memorable campaigns.