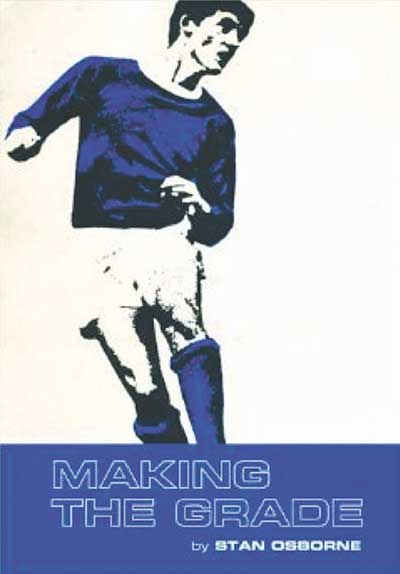 by Stan Osborne
Legends Publishing, £12.99
Reviewed by Julian McDougall
From WSC 343 September 2015
Making the Grade was published in 2012 but without the critical reception it deserved. Stan Osborne has had two careers, footballer and teacher. Here, he shares his memories of the first, spanning just two years (1969-71) as an Everton youth player and alludes to its impact on the much longer second. This is most striking when he accounts for his own time at school: "This was the 1960s and there was no hue and cry about physical punishment… we accepted [it] without complaint, in the knowledge that it was invariably administered justly and fairly." The author never says this directly, but there is a strong implication that he laments not only today's player power but also the shifts in school discipline.
On the cover, Joe Royle says he read the book in one night, and certainly any reader with an interest in the vein of unsung football insight previously attributed to the likes of Eamon Dunphy, Gary Nelson and Gary Imlach (whose father Stewart, then an Everton coach, plays a prominent role here) won't labour over this.
Osborne writes directly and with precision, dispensing with the need for reflective flourish – the order of things was as it was, and the better for it. The book reflects on the social and hierarchical function of "banter" at a football club and the pervading insecurity of that world – much of the bullying is carried out by those with the most to lose, the younger pros keeping apprentices in their place, while the first-team stars are benign and aloof.
Has Osborne observed a parallel in education, you wonder? But the central theme – of this being a harsh world for working-class men, from school to football to the outside world – ultimately turns the author into a victim as he is released and bluntly asked by Everton manager Harry Catterick to "close the door on the way out". His playing days will continue at semi-pro level, but within weeks he is at college training for PE teaching. Never, though, does Osborne lay blame, he accepts this cruel fate as harsh but fair, as with the pain inflicted by his teachers.
This sense of undeveloped implication ultimately frustrates as the book might have been even more fascinating had Osborne described life as a PE teacher in the Black Country. Every day must, we'd assume, be inflected with the experiences of his first career. Teaching is full of exes: artists, musicians, athletes and these days, thanks to Michael Gove's scheme, soldiers, all carrying the weight of the past. When Osborne tells us "I walked out a hard bitten angry young man with a chip on his shoulder the size of the Liver Buildings who was determined never to feel the pain of failure again", I want to know how this impacted on his teaching, and how he feels about his students' attitudes.
In the final pages he returns to Everton's training ground, Finch Farm having replaced Bellefield, now a "relic from a different time and place", and casts another stoical gaze on the inevitability of heartbreak for most of today's academy hopefuls, still envious of their slim chance despite his own experience – "gosh, the tears hurt… even now". Leaving the reader wanting more is, of course, the hallmark of a great book, and this reader hopes Osborne writes a sequel about his second career.