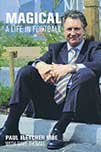 A life in football
by Paul Fletcher MBE with Dave Thomas
Vertical Editions, £14.99
Reviewed by Alan Tomlinson
From WSC 315 May 2013
This is a book about life-changing moments, successful adaptations in life and survival in the football business, from player to executive. Paul Fletcher explains the title by saying that his "life and career has been magical; it's as simple as that". Fletcher's three moments of life-changing experience were seeing a small player head the ball, inspiring him to practise jumping and heading aged 16; meeting his wife-to-be at Bolton's Beachcomber Club; and attending a Dale Carnegie course in leadership training. The third Damascan moment was at the end of his playing career and, as a fan of Carnegie's book How to win friends and influence people, Fletcher enrolled on a 12-week course in Bark Street, Bolton. There's a deliberate evocation here of dead-end hopelessness, back in the stark, dark uncertainties of his early life in the town but now with a pair of worn-out knees and an unplanned future. The Carnegie programme changed all that for Fletcher, with the probing question: "Where do life's opportunities lie, inside or outside of your comfort zone?"
Fletcher was born in Bolton and played football for his hometown club then Burnley and Blackpool, all in a state of decline or at best static during his playing days, which peaked in the mid-1970s. But the Carnegie course gave him the urge and the confidence to branch out into after-dinner speaking, from World Cup events to the Bacup Wheeltappers, India to Ramsbottom and an appearance at the Cambridge Union. He also moved into photography, the property business and marketing, which got him the job of commercial manager at Colne Dynamoes, a non-League outfit threatening Burnley's local hegemony at the time.
After a year he was recommended for the commercial manager's job at Huddersfield Town, where a derelict plot alongside the club's old ground was available but undeveloped. He went there to introduce money-making ideas but found himself drawn into the process of modernisation of the game, by taking on responsibilities for the specifics of stadium design. The old Leeds Road ground was superseded by the modern McAlpine (now John Smith's) Stadium and suddenly Fletcher was a man in demand – a former player with commercial nous and a pedigree of successful project management.
Fletcher's is an engaging story with some good put-downs; Alan Ball, in charge at Blackpool, comes out as one of the worst managerial appointments of the era. But it's a bit laddish, cultivating the spirit of the dressing-room and stand-up/after-dinner circuit. I'd have liked to know more about the minutiae of his departures from top jobs at Huddersfield, Bolton, Coventry, Wembley and Burnley (covering their season in the Premier League). But he holds back on that and tells another anecdote or reminds us that he's a ukelele-playing stalwart of the George Formby Appreciation Society. "Magic" or "magical" gets a dozen or so mentions throughout the book and at the end "serendipity" too. Fletcher recognises that he was a chance-taker not just on the field; his life in football at his impressively wide levels of achievement is testimony to his determination, ambition, loyalty towards and sustained affiliation to his local roots.