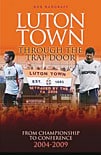 From Championship to Conference
by Rob Hadgraft
Desert Island Books, £14.99
Reviewed by Neil Rose
From WSC 279 May 2010
Many clubs have had a sob story to tell in recent years, but do any of them match that of Luton Town? Since 1999 there have been three periods of administration, a record 40 points deducted, four relegations, one league title, one other promotion, one Johnstone's Paint Trophy victory and one infamous rant about female officials.
According to Rob Hadgraft, while Luton are not the first side to suffer three successive relegations (hang your heads, Wolves and Bristol City), they are the first to have exited the Football League as a result. His book finishes with relegation into the Conference and the hope that it is the start of a revival. This is just as well, given that recounting the so-far stumbling efforts to return to the heady heights of League Two would not have heralded an especially upbeat ending.
Despite this, the current owners of the club seem genuine supporters operating with sense and transparency, and provide real grounds to hope that Luton can, at last, rebuild on solid foundations. So there is undoubtedly an interesting tale to be told of what has happened to Luton. This would delve behind the scenes and interview the key personalities to reveal what it is like when a club goes into freefall and then starts to recover, topping it off with the narrative gold of a win at Wembley last April in front of 40,000 Hatters fans. Sadly, this isn't it.
Long-time Luton fan Hadgraft starts in the 2004-05 season with my favourite moment of recent years – Ahmet Brkovic's dramatic last-minute winner at home to title rivals Hull (whatever happened to them?) that finally made Luton fans believe that Mike Newell's team really were going to win League One. And though success on the pitch was maintained for another 18 months, enjoyment of this book is already going downhill by the time the team is too.
This slim volume may be a solid record of Luton's demise, written in competent if uninspired football-speak, but it is little more than a game-by-game account of each season, interspersed with cuttings. As such, I couldn't help but wonder who would want to read it. Having witnessed the at-times soul-destroying collapse first-hand (Luton were fifth in the Championship in October 2006), it is not a period I have any desire to relive unless it helps me understand how and why it happened, and what other clubs could learn from it.
The other approach for a book like this is to live the experience with the author but Hadgraft barely features himself, preferring instead to report the reaction of Luton fans to events as a homogenous whole. It makes the drama of the last five years curiously undramatic. Desert Island Books is apparently running a small series about clubs that fall out of the League (Wrexham: Through the Trap Door was the first in 2008), but there needs to be more to it than worthy intent.