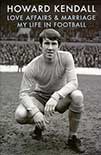 My life in football
by Howard Kendall
De Coubertin Books, £20
Reviewed by Simon Hart
From WSC 323 January 2014
There is a lovely anecdote in Howard Kendall's new autobiography about the day he signed Dave Watson for Everton from Norwich City. It was two days before the start of the 1986-87 season and Kendall's attempt to complete the deal by five o'clock, so ensuring Watson's availability for the opening fixture, had failed. Undeterred, he had the clock on the wall turned back an hour and got Watson to pose for a photo beneath it. "The Football League accepted it and Dave made his debut," he writes.
Timing is a recurring theme in this recounting of Kendall's career. He was ahead of his time as both a player and manager. He became the youngest player in an FA Cup final when, at 17 years and 345 days, he appeared for Preston against West Ham in 1964. At 20 he was wanted by Bill Shankly but joined Everton instead. He entered management with Blackburn at 33, winning promotion immediately. With Everton, he won the League, FA Cup and European Cup-Winners Cup before his 39th birthday.
So much so young, yet Kendall's timing was out in one crucial respect: the post-Heysel ban denied Everton European Cup football and he cites this as the reason he left for Athletic Bilbao in 1987 (as a 45-year-old Alex Ferguson was still settling in at Old Trafford). Familiar stuff but what is new here is the revelation that an unnamed "Liverpool executive" had recommended him to Athletic after blocking their move for Kenny Dalglish – a "grim irony" indeed for Evertonians.
Written with James Corbett, who collaborated on Neville Southall's autobiography, Love Affairs & Marriage: My Life in Football is very much what the second part of the title tells us. As befits an old-school gentleman, Kendall barely mentions his private life and dwells only briefly on potential controversies such as his departure from Notts County amid "ridiculous allegations" (unspecified here but drink-related). Yet there is much to enjoy nonetheless, not least the account of how he assembled his great Everton side in an era when a manager could create something special with a combination of homegrown talents, astute transfer dealings (he recalls the gambles taken on the injury-prone Peter Reid and Andy Gray), a trusting chairman – and morale-building Chinese dinners.
Kendall, with his man-management skills and love of the training pitch, differed so much from his own Everton boss Harry Catterick – from whom, he notes, he learned just one football lesson in six and a half years – yet the big question mark of his career is why after so much early success, his only subsequent trophy was an Anglo-Italian Cup with Notts County in 1995. Kendall reflects on his two less happy spells at Goodison in the 1990s, noting the lack of boardroom support and arguing that the influx of big money into the game meant it was no longer possible to build success on a budget. "Players were harder to sign," laments the man whose first Everton buy, Southall, was recommended by a friend who ran a Llandudno pub. The end result is he was effectively finished as a manager at just 52 – a man out of time once more.