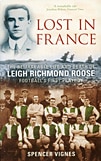 The Remarkable Life and Death of Leigh Richmond Roose, Football's First Play Boy
by Spencer Vignes
Tempus, £9.99
Reviewed by Harry Pearson
From WSC 249 November 2007
While those with even a passing interest in cricket can probably name a dozen Edwardian players without recourse to Wisden, I suspect that even the die-hard football fan finds the era before the First World War a good deal less familiar. Because while cricket regards the years that spawned Frank Woolley, Jack Hobbs and Victor Trumper as its "golden age", to most people football doesn't really seem to get going until the 1930s.
One of the reasons for this is highlighted in Spencer Vignes's snappily written biography of Leigh Richmond Roose – the laws of the game. While cricket today looks much the same as it did in the era of Wilfred Rhodes and George Hirst, football in Edwardian times appears unfathomably strange. When Roose – aka "The Prince of Goalkeepers", dubbed here "football's first playboy" – was playing, for example, a keeper could handle the ball anywhere in his own half. The Welshman from Holt often took this to extreme lengths, gathering the ball in the penalty area and then running along bouncing it until he reached the halfway line, before punting or throwing it down the field. Vignes compares this tactic to those later employed by Howard Wilkinson, which perhaps is why the press complained that Roose's antics were cutting out midfield play and spoiling the game.
Though at times Lost in France is sketchy about Roose's life off the field – there is a vague suggestion of what may well have been the first of the game's many three-in-a-bed hotel love-romps, a possible affair with risqué music-hall star Marie Lloyd and intimations that the goalie had a nasty temper that may have got worse as his career nose-dived following a bad injury – the author brings his playing style into focus very nicely. From his early days playing for Aberystwyth University, Roose pioneered a kind of flamboyant and madcap style that would later become the trademark of every netminder from Harry Sharratt to José Luis Chilavert. He even did the wobbly-legs penalty routine.
That he could indulge in such foolery owed much to his amateur status. Like many gentlemen (his father was a vicar), Roose refused to turn professional, playing instead for nothing but the love of the sport – and very, very lavish expenses. During his time at Stoke and later at Sunderland, the custodian picked up enormous sums not only for train travel, hotels and meals, but also to pay for clothes, bar bills and theatre tickets. At one point the Potters were also forking out for a dog-minder – though Roose didn't actually own a dog. There is some weird psychology in all of this that is well explored in David Foot's biography of another amateur who lived beyond his apparent means, cricketer Walter Hammond, but the author doesn't dwell on it, which is a missed opportunity. This is a pity because Vignes is a good writer, as he shows in his moving and vivid account of Roose's final days on the Western Front. A winner of the military medal for gallantry, he died during the latter stages of the Battle of the Somme. His body was never found. Now, thanks to Vignes, his career at least has been recovered.