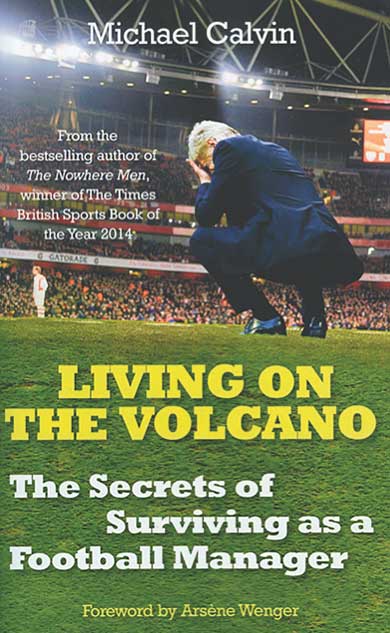 The secrets of surviving as a football manager
by Michael Calvin
Century Books, £16.99
Reviewed by Huw Richards
From WSC 344 October 2015
Football uses managers as defining figures much as old-style history employed monarchs, to the extent of describing often pathetically short periods in office as "reigns". Michael Calvin's labelling of this phenomenon "Gaffer as Godhead" typifies an eye for the neat, aphoristic turn of phrase. He sees Roberto Martínez as "an undercover pragmatist" and identifies Ian Holloway as a "man of contradiction and impulse". Such one-liners stud a book built on long interviews with its subjects, among which Holloway's stream of consciousness stands out along with a sympathetic account of Alan Irvine's travails and an intriguing portrait of Paul Tisdale.
Anyone wanting the long view of football management still needs to read Neil Carter's historical study (The Football Manager, published in 2006). But as a picture of how it is now, this will be hard to beat. Those seeking the "how to" guide implied in the subtitle will find plenty of ideas, but must look hard since they are located within the wealth of insight and anecdote throughout the interviews rather than any grand overarching exposition. "Survival" implies retaining health, sanity and self-respect, rather than avoiding the all-but inevitable sack, although on either count your chances are better at Swansea, Exeter or Everton than QPR or Leeds.
This is a job which demands unshakeable self-confidence, but at the same time is designed to erode and ultimately destroy it. The toll it can take is shown at its most extreme by Martin Ling's description of depression and electro-convulsive therapy, but there is plenty of testimony elsewhere, such as Brian McDermott's belief that: "There are a lot of depressed people in football, but they probably do not even know it, because they are conditioned by the game."
Calvin's questioning evokes a sense of men who are confident and reflective, with credentials and hinterlands beyond their coaching badges. Some, such as Brendan Rodgers, are adepts in neuro-linguistic programming (no, me neither before I read this book), while Chris Hughton did a corporate management course and many have benefited from the League Managers Association's training.
Aidy Boothroyd may still periodically punch a wall at half time, but sensitivity has replaced rage as a default setting. It is not just innate decency that explains Eddie Howe's practice of "being a shoulder" for players, but that it "can only help you".
They are also supportive of each other. Rodgers and Alan Pardew in particular emerge as willing to assist others, while Pardew also generates the best piece of trivia with his pride, from his past as a glazier, at having installed windows on the Natwest Tower and Sea Containers House.
Calvin is no soft touch, but the overwhelming impression he conveys is a sympathetic one – of largely decent, if driven men working in a world where, as Mick McCarthy says, "common sense is not very common". The problem is not the managers, but the people who appoint them and the hysterical atmosphere in which they must try to function.