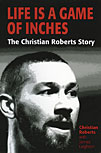 The Christian Roberts Story
by Christian Roberts and James Leighton
Vertical Editions, £16.99
Reviewed by Gary Andrews
From WSC 287 January 2011
Christian Roberts burst onto the scene as a fearless 17-year-old at Cardiff City, seemingly set for a glittering career. What followed was an exasperating journey around the west country and Wiltshire while, unknown to fans and even some of his managers, Roberts battled with alcoholism. Eventually he cleaned up at Tony Adams's Sporting Chance clinic, only to see a long-term knee injury force him to retire at the age of 28. The fact that he played half his career drunk makes his performances and natural ability even more impressive and will cause fans of Cardiff, Exeter, Bristol City and Swindon to wonder what might have been.
Much like Roberts as a player, this book frustrates and delights in equal measure. The details of his alcoholism are laid bare and the striker pulls no punches is describing his lowest moments, such as refusing to go to the hospital after his young son broke his leg in order to carry on an all-day drinking session. On the other hand, the descriptions of lads' bonding sessions, pre-match rituals and the football itself occasionally gets a little dull. Roberts is clearly a lot more humble than when he started out, but the on-field arrogance often surfaces in these passages, such as pumping himself up with Al Pacino's speech from Any Given Sunday, or posing in front of Scunthorpe fans after scoring a winner, only to get pelted with lighters.
Co-writer James Leighton keeps the story rattling along at a decent pace and Roberts's candidness with every part of his life makes for interesting, if not entirely comfortable, reading. It's hard not to sympathise with a man who had to contend with an alcoholic mother, the deaths of two children (to a stillbirth and a miscarriage) and being cast on the scrap≠heap by Cardiff all before he turned 19. Or finding salvation and sobriety, only for his manager at Swindon to refuse to take his career-ending knee injury seriously,
and then to lose his father to cancer shortly afterwards.
Among all this, there are genuine insights. Roberts acknowledges that his career spanned the point when clubs in lower divisions started to catch up with their Premier League counterparts in becoming more professional with preparation and diet. Then again, given he acknowledges he spent most of his Bristol City career either drunk or hungover, it's amazing that nobody spotted his problem sooner. Roberts also explains why he never got a chance at international level, treating his only call-up against the US as an excuse to go on a week-long bender, in full view of Wales manager Mark Hughes.
Although Roberts has been clean since 2006, he admits that if he wanted to kill himself he "doesn't need a gun, just a can of Stella". But while this lost talent is now back in his hometown and has thrown himself into coaching children, you feel that he is still going through his therapy in public. This book is as much to help Christian Roberts with his recovery as it is to help fans of his clubs understand why they never quite saw the best of this exciting, erratic player.