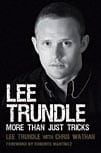 More Than Just Tricks
by Lee Trundle with Chris Wathan
Mainstream, £16.99
Reviewed by Huw Richards
From WSC 289 March 2011
Lee Trundle always did trade in the unexpected. There is some surprise in a large publisher seeing sufficient demand in a book about a lower-division local hero, but a changing media landscape means that where Robin Friday and co were confined to Saturday night football editions and fan word-of-mouth, Trundle has reached wider audiences through YouTube and Soccer AM.
The greater, more welcome, jolt to expectation is the book itself. Nobody will ever confuse Trundle with Mario Vargas Llosa, even if a memoir intercutting a diary with earlier events echoes Vargas Llosa's A Fish in the Water. But by the admittedly debased standards of the ghosted sporting or celebrity memoir it is really not half bad.
Much credit is due to his co-writer. Chris Wathan achieves the first imperative of his role, capturing credibly his subject's voice. Using "me" and "meself" in place of "my" and "myself" will irk the linguistically fastidious – possibly not the target market – but serves to evoke those unmistakeable squeaky tones.
But the most proficient co-writer is useless unless their subject has something to say. Trundle has. There is genuine interest in his account of growing up in Huyton amid a family environment devoid of consistent male presences or employment. There is also a level of self-awareness often absent from the memories of more conventionally successful footballers. Looking back, he is at once understanding of, and faintly amazed by, the youngster so focused on partying with his mates that he barely cared when he blew his chances with Liverpool and could not be bothered to turn up for a trial with Crewe.
Not that the partying has ever stopped. His account of being falsely charged of rape while with Wrexham is vivid, but it seems not to have occurred to him that going through the female population of Wales like a rabbit on amphetamines – and with rarely a backward glance – might one day bring blowback. Generally likeable, he strikes his least attractive note in his curt treatment of ex-partner Liz McLarnon when she tries to re-establish contact.
He is, though, honest in his admission that his and his team-mates' drinking was an ungrateful return (contributing to a premature sacking at Swansea) for the hugely beneficial role Brian Flynn – who took him from the Welsh Premier League to Wrexham and then to Swansea – played in his career. If Flynn is recalled with genuine affection, there is less love, but undoubted respect, for the more austere style of his Swansea successor Kenny Jackett.
The question now confronting Trundle, like any 34-year-old footballer, is what he does after playing. The evidence of this book is that whoever wanted to offer him a coaching contract at Swansea this year was not completely mad. Amid the goals, girls and nights out are some perceptive thoughts on fellow players, notably strike partners such as the unorthodox but highly effective Bayo Akinfenwa and the less well-suited Rory Fallon, plus a genuinely funny account of how the once hedonistic Fallon found God. I'd still guess that Trundle lacks the dead-eyed focus necessary for management, but who knows? He might just surprise us all over again.