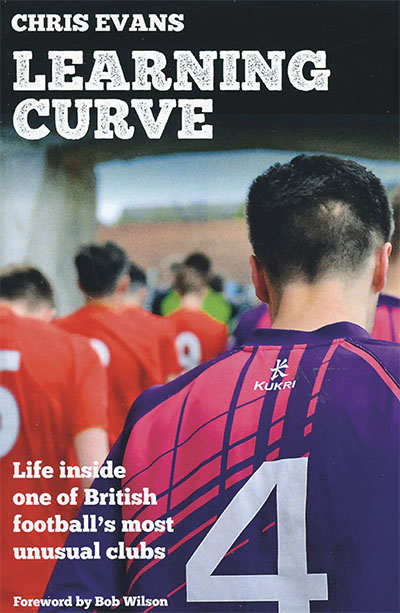 by Chris Evans
Another League Books, £8.99
Reviewed by Gavin Willacy
From WSC 374, March 2018
Buy the book
I was keen to read Learning Curve, an account of last season at Loughborough University, as my father studied there in the late 1950s. Twenty years later, as a mature student, he often refereed their games. The book's central tenet describes a footballing set-up that is unique in this country, though commonplace overseas: their student athletes train almost as much as professional players do, but fit it around their commitments to being full-time students at one of Europe's most successful universities for sport.
That theme is intriguing to the uninitiated but struggles to support a whole book. There is probably a stronger story hinted at in Bob Wilson's introduction, when an extraordinary Loughborough side beat non-League giants Bishop Auckland en route to the quarter-finals of the FA Amateur Cup in 1961. How did so many future professionals end up at one university at the same time? Dad tells me how good they were. He couldn't get into the first XI, except once "when they were desperate".
Instead, the author reports on the current team as they struggle to stay in the Midland Premier League, the fifth tier of non-League football. The Scholars do well to stay up given half their team miss pre-season and the first few games, and they struggle to field a side over Christmas. As the challenges of putting out teams in the university league on a Wednesday and a senior side in the MPL on a Saturday and often a Tuesday night reveal themselves to Evans, it made me wonder whether this was really a high-class performance environment. At least one student played two games in a day.
As there has been for decades, there are past and future pros in Loughborough's 2016-17 ranks but none is likely to match the achievements of Barry Hines, a team-mate of Wilson and Dario Gradi, who went from "effective right-back" to creator of the magical Kes.
Loughborough used to play against young teams from many Premier League clubs – Marcus Rashford appeared for a Manchester United XI at the opening of their wonderful Loughborough Stadium facility – but trying to compete in a low level of non-League football provides a less than riveting narrative for those not involved. Evans goes off on tangents, in search of other interesting stories, some of which seem only vaguely relevant. There are exceptions, though – Dapo Afolayan's tale of rejecting Chelsea to pursue his academic career is intriguing, and his experiences in the National League alongside earning a degree from an elite university suggest he may look back and decide he made a very wise choice.
The true purpose of Loughborough's elite football programme is perfectly epitomised by their MPL manager/PE lecturer Karl Brennan. "I asked what success looks like… last year that was to change the culture and philosophy to help players to be more effective as students so they can get the careers they want." With former Loughborough players now working as analysts and scientists at all of the Premier League's top clubs – and these provide the most enlightening tales in Learning Curve – that sounds reason enough to me.