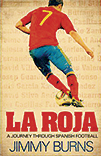 A journey through Spanish football
by Jimmy Burns
Simon & Schuster, £18.99
Reviewed by Dermot Corrigan
From WSC 305 July 2012
The current golden era for Spain's national team is also a boom time for publishers and authors producing books in English about the Spanish game. La Roja by Jimmy Burns is nicely timed for Euro 2012.
Burns has deeper links within Spanish society than most observers. His father Tom was a spy in Madrid during the Second World War and a Madrid metro station is named after his grandfather Gregorio Marañon. His closeness to issues outside sport soon emerges. Don Quixote shows up on page one and General Franco, ETA, recent president José Luis Zapatero and 19th century English travelwriter Richard Ford are all mentioned early on. None of them played much football, but they help argue that Spanish politics and culture shaped the country's football team.
Whereas in Phil Ball's Morbo you hear from taxi-drivers and local barmen, Burns draws in Federico García Lorca, Wilfred the Hairy and St Ignatius of Loyola. At times there are too many digressions into bullfighting theory and references to Quixote tilting at windmills. Another minor quibble is the recycling of anecdotes and interviews from Burns's previous books on Barcelona, Diego Maradona and David Beckham. Ardal O'Hanlon's thoughts on Catalan nationalism could have been left out.
But when a club president (Barcelona's Josep Sunyol) can be shot for his political beliefs or a stadium can become the safest place for voicing political dissent (Athletic Bilbao's San Mames), a broad approach makes sense. Many of the central influences on Spain's footballing development, from Santiago Bernabéu to Johan Cruyff, were not shy about voicing strong political opinions. A paragraph in a football book that begins with the inauguration of Real Madrid's new stadium and ends with a military coup is novel. The story of how Athletic players heard about the Luftwaffe's bombing of Guernica while on a tour of France is moving.
Burns's central point makes sense; Spain ditched its cultural and historical baggage, found its own football identity and suddenly became very, very good. For the entire 20th century, the national team was la furia Española – virile, aggressive and played by men with big cojones. When Luís Aragones changed the nickname to La Roja, some thought immediately of the losing "reds" from the civil war, but for Aragones it was just a colour like Italy's Azzurri or Holland's Oranje. Then Vicente del Bosque – from a republican family but a successful player and coach at Real Madrid – built his World Cup-winning team around a core of tiki-taka-loving Catalans.
The book is about this cultural shift. There are interviews with central figures, including Cruyff, Del Bosque, Jorge Valdano and Ladislav Kubala, but not much time is spent analysing tactics or youth systems. Burns's central concern is not whether David Silva can play as a false nine, but how Spain's football team represent the people (or peoples) found within its current borders. He succeeds in telling that story.