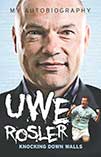 My autobiography
by Uwe Rösler & David Clayton
Trinity Mirror, £16.99
Reviewed by John Van Laer
From WSC 327 May 2014
Uwe Rösler is one of the best-known German footballers to have played in England but is widely regarded in his homeland as nothing more than a journeyman striker. Somewhat injury-prone and sporadically effective at various clubs in Germany before and after the fall of the Berlin Wall, Rösler's cult status among Manchester City fans remains a mystery to those whose only memory of him is for playing in East Germany's last-ever international fixture in 1990.
His autobiography is yet to appear in German (although each chapter has a title in his native language) but is certainly not just aimed at diehard City fans. As the title suggests, much of Knocking Down Walls deals with his childhood in East Germany and the opportunities afforded by the collapse of the communist system after 1989. He seems keenly aware of the important role in his personal development played by his years in the East German sporting system. Remarkably, neither of his parents were Communist Party members but that didn't prevent the young Rösler from being offered a prized place in the academy system at Lokomotive Leipzig, one of the biggest names in East German football. Rigid discipline and pressure to succeed became part of daily life for all trainees, in a world where seniority was defined by the canteen tokens their performance merited rather than financial rewards.
However, Rösler's temper and unwillingness to accept gradual progression to the first team in Leipzig resulted in his first managerial bust-up and a subsequent transfer to a lower-division team. Such impulsive behaviour became something of a feature of his career, colouring his image in Germany and flaring up most publicly in his outburst at then City manager Alan Ball, who had dropped Rösler from the starting XI for a Manchester derby.
His time in England certainly never featured anything as intimidating as being interviewed by the Stasi (East Germany's secret police), who threatened to end his footballing career if he refused to become an informant. After this experience, Rösler rarely seems to have been fazed by any negative developments, not even the aggressive tumour in his chest that ended his playing career in Norway and left him with just a five per cent chance of survival.
Since recovering from cancer, his managerial career has described a gradual ascent – first at three clubs in the Norwegian top flight before being given the chance to return to English football at Brentford, a club for which Rösler seemed to have developed a real, and reciprocated, affection. One of the quirks of footballers' autobiographies is that they often end on phrases such as "hopefully, we can really make things happen over the next few seasons" only for the author to move on shortly after publication. This book is no exception but Rösler's departure was not acrimonious and his genial personality and professionalism won him many friends during his tenure at Griffin Park.
Indeed, the majority of chapters about his time playing and managing in England and Norway are written with great affection for his adopted homes. While much of his early career was very different to anything experienced by young professionals in England, there are sections of the book that follow a pattern common to many footballing autobiographies: anecdotes about favourite team-mates and unpopular managers, big matches and training ground incidents. However, the historical context and Rösler's willingness to embrace challenges give Knocking Down Walls something a little different, and it will be interesting to see where his ambition and attitude can take him.