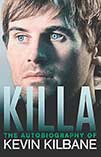 The autobiography of Kevin Kilbane
by Kevin Kilbane
Aurum, £18.99
Reviewed by Jonathan O'Brien
From WSC 327 May 2014
Sixteen and a half years on, it seems surreal to recall that when Kevin Kilbane initially broke into the Ireland squad, he was touted as a bright, shining young hope who could give Damien Duff a serious run for his money on the wing. Things didn't pan out that way, of course. But only one of them appeared in 66 competitive internationals in a row, and it wasn't Duffer.
That extraordinary stat (in the history of international football, only Billy Wright managed a longer streak) sums up Kilbane's entire career. Never more than ordinary on a technical level – I once saw him lose possession against Israel at Lansdowne Road by doing an inexplicable 360-degree pirouette while the ball trundled slowly towards him – he built himself a decent and rewarding career through sheer hard work and force of will.
Football memoirs don't always reflect the subject's own persona (read Gordon Strachan's for proof, or rather don't) but this one does. Killa is a stolid, honest and meticulous read. Generous-spirited, too, in more ways than one: all the proceeds go to a Down's Syndrome charity. Kilbane is the sort of player who can still remember what he had for breakfast on the morning of a game in Reykjavik in 1997, and who said what to whom after a match against Macedonia aeons ago. Either that or he kept a detailed diary.
His otherwise happy 1980s Preston childhood was darkened by an alcoholic father who "pissed away all his wages", and whose eventual departure from the family home "made no difference to my life". Kilbane himself briefly became something of a drunkard in 1994, a pattern which came to an abrupt end when he was caught stealing a car stereo and a police sergeant gave him "the longest bollocking of my life".
The tone is generally positive and sunny (I lost count of the number of times players or teams were referred to as "great lads"), but there are sporadic glints of anger. Cesc Fàbregas's reputation for arrogance is added to here as Kilbane relays his obnoxious comments during an Arsenal v Huddersfield cup tie ("This team are shit!"). Later in the book, a Coventry fan screams at Kilbane that he deserves to have a handicapped daughter (Elsie has Down's Syndrome). Kilbane tells him to fuck off, but is then pressurised by the club into making a public apology. Kilbane offers the fan the chance to hear the apology face to face, secretly hoping in vain that he turns up because "an apology was the last thing I was going to offer him".
A few more interesting nuggets pop up – David Moyes supposedly finds it near-impossible to relax even on squad getaway breaks; hard man Thomas Gravesen privately cringed at the idea of being tackled hard; and Kilbane claims that Ireland's players came up with the tactical gameplan for the fateful World Cup play-off in Paris behind Giovanni Trapattoni's back. In the main, however, Killa mirrors its subject almost exactly, taking few chances and diligently plugging away. It passes a few hours agreeably enough, but that's all.