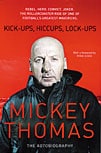 by Mickey Thomas
Century, £18.99
Reviewed by Ashley Shaw
From WSC 261 November 2008
By the end of this book it's difficult not to feel angry with Mickey Thomas. The stench of natural talent wasted for the want of a smidgen of intelligence hangs over most of his career, even if the author appears to have learned his lesson by the book's close.
Yet "Mickey T" doesn't seem to be a real person at all, but a media creation of former Wales midfielder Michael Thomas. Having morphed into this fictionalised character sometime in the late 1970s in order to cope with the stresses of his profession, he only successfully escaped its clutches following a nine-month prison sentence and a few years at rock bottom. That said, for all his annoying habits, it's hard not to take a shine to him, too, even if you wish he could have grown up a bit sooner and saved himself a lot of mither.
Mickey's career, like the prolific love life he hints at throughout, was littered with genuine romances (Chelsea, Stoke, Wrexham), dodgy one-night stands (Brighton, Everton, Leeds) and the one that got away (Manchester United). Thomas wasn't the first to find the hyper-critical Old Trafford crowd an insurmountable psychological barrier and he probably wasn't the only United player to hit the bottle before home games in the Seventies and Eighties as the pressure for success mounted. Yet within months of his arrival in Manchester, the game stopped being a joy and every appearance became a trial.
Unfortunately the pressure wasn't eased by manager Dave Sexton's tactics or the popularity of Thomas's predecessor, Gordon "Merlin" Hill. In reality the Welshman had little or no chance of winning over the crowd and no end of commitment was ever going to overcome a relative lack of style.
From the moment Thomas left United in search of quieter pastures, Mickey's career nosedived alarmingly. His only other notable spell came at Stoke, where he seemed to have been rejuvenated alongside such players as Sammy McIlroy, only for manager Richie Barker to opt for a long-ball style. Needless to say little Mickey (like Stoke) failed to prosper under that regime.
By the early Nineties, with his career seemingly over and all the ability apparently squandered, Thomas returned to the Racecourse Ground and a final date with destiny. Within a scarcely believable first few months of 1992, he scored one of the FA Cup's most celebrated goals to help defeat champions Arsenal, saving his local club from bankruptcy in the process, but unfortunately he was subsequently arrested on charges of passing around "funny money" and viciously attacked by his brother-in-law as Mickey enjoyed a sexual rendezvous in a lay-by.
After his arrest, Thomas didn't help his cause by continually playing up to the charges laid against him rather than seeking a dignified clearing of his name. Unfortunately, while he categorically denies the charges here, there is no blow-by-blow account upon which to base his claims of innocence nor does there seem to be any remorse on his part, just a catalogue of injustices he ­intermittently rages against.
Kick-ups... tries to paint Thomas as a happy-go-lucky hero for the Loaded generation. Unfortunately, Mickey seems unaware that, after a career filled with training-ground japery, dressing-room banter and absences without leave, he has actually managed to piss away what could have been a formidable football career. Although his comeback from the slough of despond is admirable, it's hard to find too much humour in that.