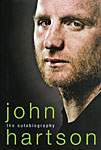 The Autobiography
by John Hartson with Alex Montgomery
Orion, £17.99
Reviewed by Graham McColl
From WSC 240 February 2007
Flicking the picture section of this book is a bit like watching the Incredible Hulk expand to the point where his clothes burst from his body. John Hartson arrived in top-flight football just as players were starting to pay greater attention to diet and Hartson, too, was always keen to do so. Awaiting, nervously, an ultimately unsuccessful fitness test with Glasgow Rangers in 2000, he relaxes in a smart restaurant in Glasgow's West End. "I was so hungry I had four portions just to fill me up."
In an increasingly abstemious football era, Hartson has bucked the trend, courting a lifestyle that leaves him looking like a rogue teletubby. That could be endearing, but this book simply cements the impression that he is a bit of a blimp. He does at one point suggest he is sensitive and that may be true, but he barely has time to say so before his "ghost" sweeps him away with another tabloid torrent of cliches.
Some of Hartson's observations could have been scripted for Harry Enfield's Loadsamoney character, such as a slightly disturbing page-and-a-half-long rant against his father's espousal of solid working-class values. "There are times when I think: hold on a minute, Dad, I've bought 15 homes and you've never bought one. I left home at 16 and have earned millions since then. You haven't…" Jonathan Barnett, Hartson's agent, has equal billing with his father, but is described as a blend of philanthropist and benevolent uncle.
Bruce Rioch, as Arsenal manager, incurs Hartson's serious displeasure in demanding that the player be weighed twice a week. George Graham registers more highly on Hartson's likeability chart. "This must sound bizarre now, but I didn't know any Scots back then," he says of meeting Graham, when signing for him at Arsenal. Especially bizarre, John, as you were waxing lyrical about the influence of Jim Ryan and Paul Telfer at your first club, Luton, just a few pages earlier.
Hartson prefaces the book by stressing that it "was essential to tell the truth, however revealing the memory" and there is evidence, in several places, of a real philosophical struggle to arrive at the objective truth. Of Mark Hughes, as Wales manager, Hartson says: "His tactical knowledge – his footballing intuition, if you like, was near perfect." Two pages later, it's: "I would never want to criticise Sparky, he's my hero and I love the man and his style, but perhaps tactically he could have done things a little differently."
Hartson's thoughts on his five years with Celtic are mildly revealing and even inject some rare humour into the tale, while his description of overcoming a career-threatening back injury does increase the pace and tension, albeit too briefly. Another page-and-a-half-long rant, this time questioning why Sven didn't give Darren Bent an extended run as England's first-choice centre-forward and take him to the 2006 World Cup rather than Theo Walcott, seems bizarre. What's this got to do with a Welshman discussing playing in Scotland? Then you remember that Bent and Hartson have in common representation by the aforementioned Barnett…
A book, like trying to match one of Hartson's eating feats, guaranteed to bring on a severe case of indigestion.