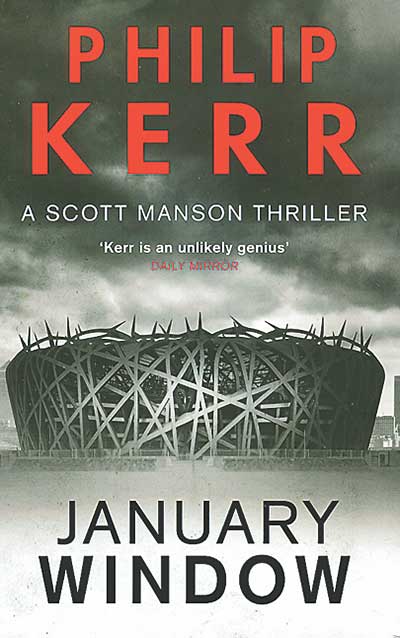 by Philip Kerr
Head of Zeus, £14.99
Reviewed by Robbie Meredith
From WSC 340 June 2015
Despite the relatively recent success of David Peace's The Damned United, football, given its prominent position in many people's lives, has always been under-represented in fiction. Partly this is due to most of the extensive media coverage of the game being a form of story-telling itself, but it's also the fact that the collision of the two worlds often feels so unsatisfactory on the page. Peace, successfully if somewhat controversially, wrote a fictional interpretation of actual people and events, but Philip Kerr decides to insert his central character and an imagined team – London City – within the existing reality of away games in Newcastle and tactical battles against Sam Allardyce.
Kerr is best known for a long, and very good, series of thrillers set in Nazi Germany, but he has a specific set of problems to tackle in using modern football as a backdrop. His flawed hero is Scott Manson, a rising coach at City, who are themselves a franchise team, a high-flying Premier League version of MK Dons. When manager Joao Zarco – a charismatic, aggressive, lyrical Portuguese – is found dead in City's east London stadium, Manson is invited by the club's hard-nosed Ukrainian owner both to take over the team and to investigate Zarco's killing. The Arsenal Stadium Mystery is mentioned twice in the novel, and there's more than a hint of a Gunners fan's – which Kerr is – fantasy in imagining such turmoil at a fictional parallel of the Chelsea of José Mourinho and Roman Abramovich.
There are some obvious tensions in the narrative. Manson is a black, former top player with Arsenal and Southampton, whose playing career ended prematurely after he was wrongly convicted of rape. He is occasionally misogynistic, but is also educated to degree level, has a detailed knowledge of modern art, is fond of quoting Aristotle after sex and, in his fledgling coaching career, has already worked at Barcelona and under Pep Guardiola at Bayern Munich. If anything, he's too rounded a character.
This is presumably because Kerr has decided that his audience are either going to be devotees of his previous work who know little of football and view it with distaste, or fans drawn to a rare novel about their passion. As a result, there are regular, and sometimes grating, narrative digressions, especially in the first half of the book, so that Kerr can explain some facet of the game to a reader who knows little of football or its history.
Despite this, January Window just about carries it off, mainly because Kerr is such an adept plotter and because he's on surer ground as the quest to find Zarco's killer comes to dominate the narrative. It's an effective thriller, with numerous potential suspects, red herrings and a seemingly insignificant detail which leads to the case being solved, while revealing little about football that a literate supporter will not already know.