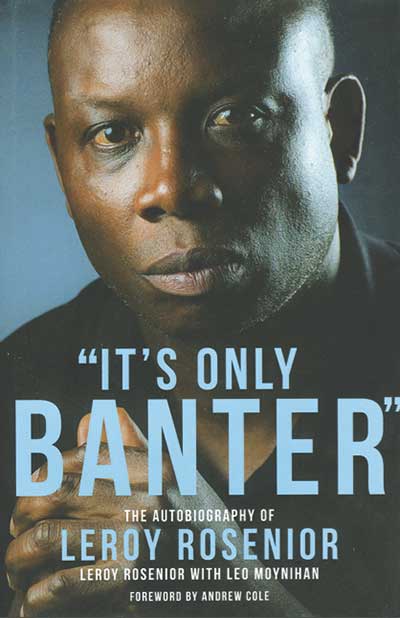 with Leo Moynihan
Pitch Publishing, £16.99
Reviewed by Chris Lewis
From WSC 365, July 2017
Buy the book
As one of the first black managers in the English game and a decent forward in his own right, Leroy Rosenior should be better known. As the title makes clear, this is more than a run-of-the-mill autobiography. An excellent early chapter discusses Rosenior's upbringing in south London, including his parents' journey there as part of the post-war African influx into the UK.
As his career develops, the descriptions of the racism Rosenior experienced as a player make for harrowing reading. Players used racial abuse as a part of their game, to "psyche out" black opponents, before offering hearty commiserations afterwards, ignoring the immensely damaging effect their words had.
This obliviousness, or perhaps duplicity, was also reflected in fans, who abused the hardworking forward when he was sub-par, yet cheered him when he scored. Rosenior's discussion of the treatment received by black pros such as himself, which lurched from threats and abuse to patronising nicknames, serve as a grim reminder of the days of open racism.
Throughout the book Rosenior's magnanimous nature shines through, and he seems a genuinely funny and intelligent man. While post-match nights out – the standard fare of the ex-pro biography – feature in the book, Rosenior uses them more as a device to explore wider themes of race, and belonging, rather than for cheap laughs.
However, it feels like some of the best material in the book is underdeveloped. The subject's four seasons at Torquay are condensed into a single chapter, which only briefly discusses the immense task he was faced with at the time, while his infamous ten-minute return is given only cursory attention. (Rosenior was appointed manager while a consortium was arranging a takeover. Ten minutes later, the deal was done and he was sacked.)
The end of Rosenior's managerial career, and how race potentially played a part in his failure to find work in England, merits a deeper discussion that we don't quite get in the book. Fulham fans will be disappointed that despite playing the bulk of his career at the club, his time at QPR and West Ham receive far more attention.
Some sloppy editing (a West Ham goalkeeper changes first name three times in a paragraph) lets the book down, as does the use of block quotes, and out-of-place pop culture references, which seem like hamfisted attempts to give the book social history credentials which it doesn't quite merit.
The final chapter, where Rosenior muses on the state of the game, is more than welcome and ends the book on a high. This chapter strings together the themes that are explored elsewhere, as he ponders whether his son Liam, and other ambitious black coaches, will be afforded the opportunity to demonstrate their talents as managers.
However, just as the book gets going again, it is finished. Like Rosenior's career, this is a book that starts brightly and genuinely entertains, yet doesn't quite live up to its full potential.