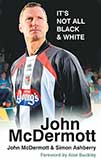 by John McDermott 
& Simon Ashberry
The History Press, £9.99
Reviewed by Pete Green
From WSC 326 April 2014
In many ways John McDermott's book is the archetypal lower-league autobiography. You have contractual wrangles and several relegations shot through with moments of glory, laddish hijinks on pre-season tours of Scandinavia, a touching sense of wonder when the player crosses paths with his contemporaries from the Premier League and transcription from interview tapes with a minimum of editorial effort. Rather than leave for a new club every chapter, though, McDermott spends all of his 21-year, 750-match career with Grimsby Town.
This is what makes his story remarkable. He is, perhaps, the last of his kind – not just at Blundell Park, but anywhere. McDermott was long recognised as one of the best full-backs outside the top flight, having perfected the art – as we Town fans sometimes called it – of defending without tackling. "The best defender on any team is the one with the cleanest pair of shorts," he is told as a young player, and "that became my forte, staying on my feet rather than sliding in rashly." It's Not All Black & White sounds only the faintest notes of wistfulness as the author reflects on transfer approaches from Ipswich, Bradford and Watford – all three of whom go on to reach the Premier League. An England scout arrives early on but McDermott has just been sent on a cross-country run by manager Mick Lyons and has a stinker.
As a schoolboy McDermott travels down from his native Middlesbrough for a trial and never looks back. He speaks of his club and adopted hometown with gentle rather than showy affection (once asked by a national paper why he stayed with Grimsby, he cited the area's low house prices). Over two decades managers come and go, and with them a variety of methods. Lennie Lawrence takes Town to the bottom of the second tier but McDermott admires his futuristic approach to fitness. More typical is the illustrious Alan Buckley, who throws down the scouts' opposition report and says: "Right, read it if you want but I'm not bothered if you don't… it's all about us."
McDermott's situation eventually prompts a sad and telling reflection on footballers' pay. Wages reflect only what it costs to retain a player – not his ability. When an ageing star is performing superbly these are not the same. Supporters vote McDermott player of the year, but at the age of 36 approaches from elsewhere are unlikely, so the then Grimsby chairman John Fenty (who essentially retains the role to date, in all but name) cuts his weekly pay from £650 to £300. Witness a club legend scrabbling around for odd jobs at the ground to bring in an extra £50 a week, and you see the kind of house Fenty has been running.
For all the talk of McDermott's loyalty, the most striking trait in evidence here is his dignity. He speaks of Fenty with a surprising lack of bitterness and declines to settle old scores with the senior players who bullied him as an apprentice. In 2009, after retiring, he receives the PFA Merit Award – bestowed previously upon the likes of Jimmy Armfield and Alex Ferguson – and his humility shines on. As with the playing style, so with the man: never lunging in, always staying upright. He's Grimsby's greatest ever and his story is compelling.