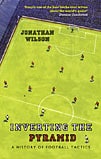 A History of Football Tactics
by Jonathan Wilson
Orion, £18.99
Reviewed by Harry Pearson
From WSC 259 September 2008
To those of us who grew up reading World Soccer in the 1970s, the word "tactics" will forever conjure up the severe glasses of journalist Eric Batty, portly sage of formations and positional play, whose annual selection of a World XI invariably involved at least one player of whom the writer would observe: "For club and country he is predominantly deployed on the right wing. I have elected to play him at left-back…" In 1970, Batty wrote a book in which he presented an analysis of the styles and tactics of the teams at the Mexico World Cup. In it the author conclusively proved – by data, argument and drawings – that Brazil were the most effective side at the tournament.
Jonathan Wilson's new book finds no place for Batty (although his spirit hovers in the background when the author is handing out a well merited slapping to those two Charlies, Reep and Hughes, whose pseudo-scientific data gathering did for English football what Cyril Burt and his IQ tests did for our national education system). Despite the many diagrams, Inverting the Pyramid is not a dry work of analysis, but a wide ranging and entertaining account of the evolution of football tactics around the world from the original 1-2-7 line-up favoured by England in 1872 to the 4-3-3 of José Mourinho's Chelsea. It features a cast of characters in many ways as eccentric as Batty, though undoubtedly more influential, including the bowler-hat wearing Hugo Meisl, "passionate puritan" Stan Cullis and Bela Guttman who – in Wilson's memorable description – "lived life like the world's rejected guest, always on the lookout for a slight, always ready to flounce, irritating and irritated in equal measure".
Britain is traditionally viewed as a backwater when it comes to football innovation. "The English are creatures of habit: tea at five," Helenio Herrera, Dark Lord of catenaccio, sneered after his Barcelona team had thrashed Wolves 5-2 at Molineux in 1960. And though Wilson gives a more-than-fair analysis of the contributions of Cullis, Herbert Chapman, Alf Ramsey and Bill Shankly to tactical changes, it perhaps says something about the way our most successful managers have often favoured an over-­arching "philosophy" rather than any concrete system that Graham Taylor's Watford get more space in Inverting the Pyramid than any of the – much more successful – teams produced by Matt Busby. "Go out there and express yourselves" may be a successful tactic when you have the best attacking players in Europe, but it is not one the rest of the world can spend much time talking about.
The Germans, it should be said, fare even worse than the British when it comes to coverage. Helmut Schön merits only one mention and Sepp Herberger barely more than that. That these two coaches thwarted the most innovative – and beloved by all fans of tactics – sides of the post-war era suggests they must have known something.
Debate and disagreement is the very stuff of football, however, and Inverting the Pyramid would have failed if it didn't provoke any. As he showed in Behind the Curtain, Wilson is a lucid writer with a gift for concision and amusing and compelling turns of phrase. The story of the development of global football tactics offers an almost overwhelming wealth of material, and it is one of this book's great strengths that the author marshals it with the sort of discipline and effectiveness that would have drawn a nod of approval from Valeriy Lobanovskyi.