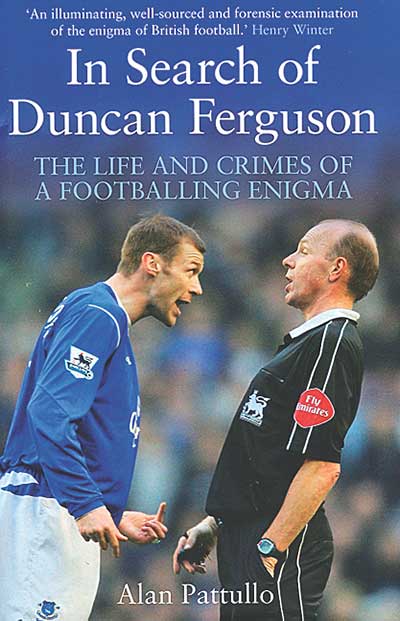 The life and crimes of 
a footballing enigma
by Alan Pattullo
Mainstream, £18.99
Reviewed by Archie MacGregor
From WSC 336 February 2015
For someone who so determinedly shunned the media throughout his playing career Duncan Ferguson had quite a knack for grabbing headlines. The two were intrinsically related of course and contributed to him polarising opinion like few other Scots-born players have in recent decades, with perhaps only Graeme Souness ahead in the queue. This book lays bare not only justifications for his brooding hostility towards the press pack but also in turn how such unwillingness to explain himself fuelled antipathy towards him, especially in Scotland.
For those with strongly held opinions over whether Ferguson was a chronic underachiever with delinquent tendencies or a mixed-up kid who just needed to feel appreciated it's unlikely this thoughtful and even-handed appraisal by Alan Pattullo will persuade them to change camps. Among the undecided there is simply just a lot more to ruminate over.
On the playing side the book chronicles Ferguson's emergence as an exciting prospect at Dundee United, a then record-breaking £4 million transfer fee when he moved to Rangers in 1993, his failure there and the headbutt on Raith Rovers' Jock McStay that led to a short jail sentence, a smattering of generally underwhelming international appearances and finally rejuvenation of sorts, eight sendings-off and near folk-hero status in two spells at Everton. Off the field Ferguson also emerges as no less paradoxical. For every interviewee testifying that he was "fun", "sensitive" or had "a heart of gold" there is another portraying him as a "hellraiser", "cruel" or "difficult to like".
It's hard not to escape the view that Ferguson's early experiences under the successful but authoritarian Jim McLean at Tannadice shaped his seemingly ambivalent attitude towards the game. Along with notoriously long contracts to tie players down, there were results-driven pay packages with low basic wages topped up with relatively handsome appearance and win bonuses. This bred a "brutal" culture within the club where players competed ferociously with one another to make sure they were in the matchday squads. Newcomers were treated as unwelcome potential rivals and details of how Ferguson once humiliated a young German trialist by cutting up his suit in the dressing room make for particularly uncomfortable reading.
His penchant for getting into trouble ultimately led to a spell in Barlinnie prison. This was viewed as harsh by some but three previous convictions for assault prior to the McStay incident hardly stood him in good stead in court. However no one in the book offers any support for the SFA also seeking to impose a 12-game ban as its own punishment – a move that wholly soured Ferguson's relations with the Association and all but extinguished his desire to play for Scotland.
It was letters of support from Everton fans, including one from a young Wayne Rooney, that Ferguson credits with keeping him going through those dark days and helped forge the strong relationship he has with the club to this day. Pattullo, like others who have taken a keen interest in his tumultuous career, could barely imagine him ever becoming a coach but there he is, an integral part of Roberto Martínez's back-up team at Goodison Park. Heavens he's even started speaking to the press occasionally. Maybe the autobiography will be next.