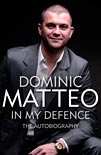 The Autobiography
by Dominic Matteo
Great Northern, £16.99
Reviewed by Simon Creasey
From WSC 300 February 2012
He may have made fewer than 150 appearances, scoring a measly four goals in the process, but at Elland Road Dominic Matteo's name ranks right up there with other legendary figures from Leeds' halcyon days. Whether home or away, Matteo's name is sung every week by Leeds supporters to commemorate the "fucking great goal" he scored against AC Milan in a Champions League tie at the San Siro.
In this autobiography, Matteo recalls events from that fateful evening and the irreparable damage done to his relationship with his team-mates when he publicly spoke out in favour of a wage deferral to help keep the club afloat.
As well as charting the turmoil behind the scenes at Leeds, the book also contains lots of interesting nuggets for Liverpool supporters. Matteo describes his early years at Anfield, the infamous boot room and how younger members of the team were forced to "service" strippers in front of the rest of the squad at Liverpool's Christmas parties.
What is most striking about this book is the drinking and gambling fuelled by Matteo's addictive personality and the boredom that comes with being a modern day professional footballer with lots of time to kill. Matteo's taste for alcohol was legendary. As a young player he was christened "Hollow Legs" after an all-night drinking session in Dublin with the Liverpool squad two days before his Premier League debut. He admits that he came to view drinking as part of being a footballer. He would regularly knock back six pints after training with Neil Ruddock, his partner in crime.
Matteo recalls one marathon drinking session – that took place while he was injured – known affectionately as "WWW" (an abbreviation of "Warrington, Windermere, Wigan"). He almost died when Ruddock drunkenly pushed him off the back of a speed boat travelling at 40mph along Lake Windermere. There is also the surreal evening he spent getting drunk in a Leeds hotel with Luis Figo, Raúl and Roberto Carlos.
Then there was the gambling. Matteo estimates that he lost around £1 million on bad bets, after his £10,000 habit spiralled so out of control that he was forced to gamble £100,000 on the outcome of a race to recoup his losses. It is sensational stuff. But where Matteo's story differs from other football autobiographies is that there is no attempt to sensationalise what occurred.
It is an honest, down to earth account of life as a professional footballer. After reading his story you are left feeling that Matteo's career was a litany of missed opportunities. From his stop-start formative years at Liverpool, his stalled international career for England and Scotland, and the missed chance to join Arsène Wenger's team of invincibles, Matteo's career was cut short by injury. He reflects that things might have panned out differently had he looked after himself better and cut out the drinking. But then this book would have been yet another run of the mill football autobiography, rather than the riveting story it is.