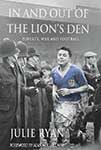 Poverty, war and football
by Julie Ryan
CreateSpace, £9.99
Reviewed by Neil Andrews
From WSC 317 July 2013
In and Out of the Lion's Den is a case for why you should never judge a book by its cover. Ostensibly a biography of former Millwall striker John Shepherd, author Julia Ryan – Shepherd's daughter – delves a bit deeper into her ancestry to explore the journey of her maternal grandparents and their flight from Franco's Spain to England. As such, this is a very personal account of many lives rather than one, offering a vivid and at times fascinating insight into the Spanish Civil War and its aftermath, as well as the life of a professional footballer in the 1950s.
The early part of Shepherd's story is a remarkable one. Recommended to the Lions by an insurance salesman who never saw him kick a ball, he overcame polio while on National Service to score four goals on his debut away to Leyton Orient – still a post-war record. Unfortunately for Shepherd a combination of injuries and bad luck meant he never fulfilled the early promise that saw him being courted by managers such as Matt Busby. More surprising still is his behaviour off the field.
In an age where many decry modern footballers and how they bear little resemblance to their predecessors, Ryan inadvertently proves that Shepherd and his team-mates have more in common with today's players than is often suggested. Bonuses are placed – and lost – on horses, cars are driven without a licence and FA Cup final tickets are sold on the black market. The striker also sulks and refuses to turn up for training when dropped from the first team. When left out for a second time Shepherd sells his story to a national newspaper. He is even arrested after playing stooge for a gambling ring, receiving a fine for his troubles (he escapes press attention after providing a false name to the courts). More sinisterly there is a hint of match-fixing, although it's a shame the author fails to press the matter further.
Ryan is clearly more comfortable writing about the war in Spain and handles the atrocities of the conflict and its aftermath, particularly the concentration camps in France, delicately. Her mother's acclimatisation to life in England as a young child is particularly touching, yet while she is prepared to tackle the awkward and unexpected reunion of her grandparents in London head on, she shies away from any scandal her father may have been involved in.
There is also a lack of attention to detail in the chapters on football. While census records, casualties of war and even the address of a toy company are recorded with impressive accuracy elsewhere, Millwall fans will be startled to discover that the Den was located in London's East End and that Neil Harris retired in 2011, while the date the club was formed is wrong by ten years.
Such errors could have been avoided with the help of an experienced editor. However this book is still worth a read, especially for manager Charlie Hewitt's programme notes, which are an unexpected delight. Remarks such as "when will people learn how and when to mind their own business?" prove that today's bosses haven't changed that much from their predecessors.