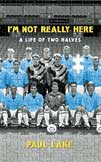 A Life of Two Halves
by Paul Lake
Century, £14.99
Reviewed by Tony Curran
From WSC 295 September 2011
Despite his prodigious talent and popularity as a player at Manchester City, I seem to recall that Paul Lake had a slight image problem with the wider public. Rather like Glenn Hoddle at Tottenham, Lake's languid, easy style and comfortable technique were revered by home fans but occasionally perceived as being rather too effortless by some less enlightened outsiders who preferred their heroes to demonstrate more tangible evidence of commitment.
However, while Hoddle's self-assured swagger was often interpreted as arrogance, Lake's undemonstrative demeanour implied a lack of self-confidence, a notion that is at least partially borne out in the early chapters of I'm Not Really Here, as he is found to be a compulsive worrier. At various stages of his burgeoning career we see him concerned about making it through the youth ranks, fretting about retaining his first team place under new City manager Howard Kendall (only to be handed the captaincy) and believing that his international future was in terminal decline after a disappointing performance in an England B game.
Similarly, the narrative structure of the book initially indicates a man still a little unsure of himself. The prologue, flitting between key moments of Lake's career, suggests that the story will avoid genre cliches but it soon reverts to the usual tales of "boyhood dreams and banter with the lads" which can only be of real interest to City diehards. Even the title – a take on a Manchester City supporters' in-joke – and the notion of naming each chapter after a song from a famous Manchester band suggests that Lake doesn't fully believe his story has much currency outside of his native city.
In this respect Lake does himself a disservice, for his tale reveals a young man betrayed by the football club he loved and marginalised as a result of it. Issues concerning the moral responsibilities of employers to those in their charge replace dressing-room jokes as the second half of the book becomes an engaging, if downbeat, read and the author really finds his voice.
Seriously injured in a league game against Aston Villa in 1991, Lake suffers extended traumas as a series of ill-informed diagnoses and botched operations, together with inadequate aftercare, derail his promising career. A trip to America for a last-ditch attempt to salvage his chronically damaged knee – an expense grudgingly sanctioned by City chairman Peter Swales – turns to disaster after the club's cost-cutting travel arrangements for Lake's return flight prove ruinous for his rehabilitation.
Left to train alone with no real prospect of recovery and the club disinclined to make provision for the long-term reduction in his earnings, we see Lake's previous quiet stoicism turn to open anger and bitterness as he approaches physical, emotional and financial meltdown.
The consequent collapse of his marriage, death of his beloved father and official end of his playing career hasten the downward spiral towards depression. These passages are gilded with real poignancy, and it is to Lake's great credit that he has subsequently eschewed self-pity and managed to get his life back on track. By doing so he has displayed vast reserves of inner fortitude that some – quite erroneously – once suspected him of lacking.