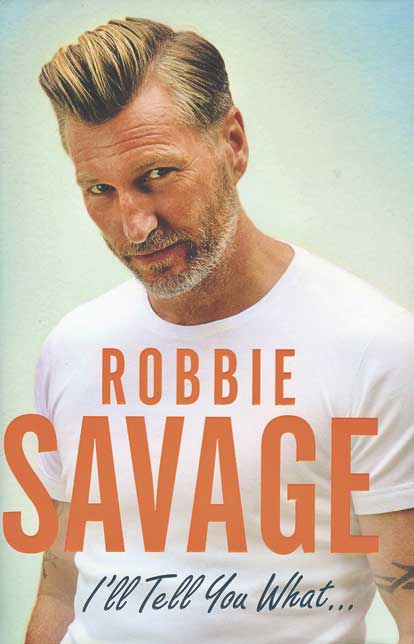 by Robbie Savage
Constable, £18.99
Reviewed by Tom Lines
From WSC 352 June 2016
Apparently, you either love Robbie Savage or you hate him. He is, in his own words, "Mr Marmite": someone who divides opinion "like Moses divided the Red Sea". It's an interesting choice of simile, suggesting a finely balanced reservoir of people on each side of the debate. In reality, on one hand there are the people who love him: his close friends and family, perhaps his agent, and on the other there are all the people you've ever met with an interest in football.
Yet if Savage is unloved then he is also in some way popular. His broadcasting career is flourishing and all those producers and editors clearly value what he brings to television and radio. Why is this? Perhaps there's a clue in this book.
Robbie has already given us his life story in 2011's Savage! so this is a collection of short articles – "my take on the modern game of football" as the subtitle awkwardly puts it. But without the narrative structure of an autobiography it's awfully thin stuff. Alongside his thoughts on the Lionel Messi v Cristiano Ronaldo debate and the greatest players he played against, equal weight is given to a month he had on loan at Brighton in 2008. At least two thirds of this is taken up with an anecdote about the trouble he had parking his car at the Withdean Stadium so it's certainly not just filler.
Most chapters are no longer than six or seven pages, with good reason. Naturally, you read the book in Savage's voice and that's incredibly draining. Yet it also perfectly captures the hectoring, slightly desperate tone of his target market – the sort of people who corner you in pubs, determined to discuss the title race, video technology or their best-ever Premier League XI. If they do an audio version of I'll Tell You What… it should be recorded live on a Friday night in a Cheshire wine bar with Savage shouting out endless Gary Lineker anecdotes above a relentless chart dance soundtrack.
What grates most is the gulf between how Savage imagines his media persona – straight-talking and unafraid of controversy – and the reality in print. Because this is perhaps the least controversial book since Pippa Middleton's party planning manual, in which she asserted that stargazing was best done at night. Look out! Here comes Robbie shooting from the hip! Ryan Giggs is "a legend", Frank Lampard an "absolute genius" and money's influence on football is, obviously, "all about market forces".
Perhaps with a better ghostwriter some genuinely interesting opinions could have been flushed out. But co-author James Hogg has a background in officially sanctioned biographies for the likes of Ernie Wise and Torvill and Dean so in a way he's the perfect choice. Because more than anything this is a showbiz story: the rags-to-riches tale of how a preening, self-obsessed industry – all mindless swagger and empty bluster – found its perfect spokesman.