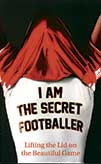 Lifting the lid on the beautiful game
Guardian Books, £12.99
Reviewed by Taylor Parkes
From WSC 309 November 2012
Who is the Secret Footballer? Does anybody really, truly give a toss? When the weekly column first appeared in the Guardian, offering insights into the life of an especially bright and articulate player, it was hard not to speculate on who exactly was writing this stuff but that was pretty much a side-issue. Lately, thanks to the magic of the internet, this dull masquerade has become the greater part of the point. A dedicated website examines the "clues"; hours of televised football are trawled for clips corresponding to events from the column, which are uploaded solemnly to YouTube. On the Guardian site you can watch a promotional video where someone in a hoodie sits with their back to the camera while a voice intones "Who am I? I'm the secret footballer…" Surely this is the point at which any reasonable human being rolls their eyes and ceases to care?
Maybe not. Football's own Bruce Wayne has a best-selling book out now and for what it is, it's actually not bad at all. There's very little here – about pressure, decadence, the culture of the dressing room – which you wouldn't have been able to guess, but it's fairly well written and rarely boring and sometimes genuinely funny. There's even a proper ending: past the unlikely quotes from Proust and Pink Floyd (and the many jabs at Robbie Savage) is an unsettling final chapter in which TSF discusses his depression, and claims to be overeating and drinking deliberately in an effort to finish his career: "I don't want to go back. Don't make me go back." It's all very convincing, particularly as letting go of the reins like this can be a side-effect of the antidepressants he's taking (a fact of which he seems blissfully unaware).
The trouble is, it's hard to trust a man with a brown paper bag on his head. You feel like you're being messed with somehow, even if you're not. Is this really a footballer, you wonder, or a journalist writing up insider stories collected from contacts and colleagues? He has to keep his identity secret to avoid being "ostracised", he says – but so much detail is given away about overseas trips, Christmas parties and various incidents on the pitch that anyone who knew this bloke would recognise him instantly from skim-reading a couple of chapters. Then again, there does seem to be an awful lot of evidence pointing at one player in particular…
There you go. Before you even know it, you've fallen into a trap. But so has The Secret Footballer – all this infantile, hucksterish hoo-ha detracts greatly from the content of a book which will be widely read and enjoyed but will, I'd have thought, be used as a kind of riddle, a puzzle without a prize. Whoever The Secret Footballer might be, he/she/it deserves better than that.