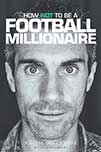 by Keith Gillespie
Sport Media, £16.99
Reviewed by Robbie Meredith
From WSC 326 April 2014
The advance publicity for, and newspaper serialisation of, Keith Gillespie's autobiography concentrated heavily on his prodigious gambling habit. Given that Gillespie estimates he squandered around £7 million over the course of his career this is understandable, but How Not To Be A Football Millionaire is much more than a tale of beaten dockets. To his credit, Gillespie refuses to wallow in self-pity or to portray himself as a particularly likeable man.
Rather he comes across as intelligent, complex and contradictory – despite a lifelong, and ultimately damaging, habit of refusing to face up to conflict or responsibility, he's refreshingly willing to put the boot in now his career is over. He's withering about Stuart Pearce's "Psycho" image, and there's a telling depiction of Graeme Souness striding around Blackburn's training ground in nothing but a towel and formal shoes, but his deepest scorn is reserved for his former manager at Sheffield United, Kevin Blackwell. There's an elongated and blackly comic account of his time working under Blackwell, which culminates in a series of late-night abusive text messages.
Gillespie's chronic gambling habit is nurtured at Old Trafford early in his career, where he gladly takes on the task of placing bets for Alex Ferguson, but it reaches its nadir at Newcastle. One of the most pathetic images in the book, although I doubt if he sees it that way, is of Gillespie spending endless afternoons on his sofa – phone in one hand and Racing Post in the other – placing huge telephone bets on the horses. A crisis comes when he loses £62,000 in two days, but the strengths and flaws in Kevin Keegan's management are apparent when, rather than imploring his player to seek help, he organises a club payment to Gillespie's bookie to clear the debt; a misguided act which, yet again, prevents the player from taking charge of his own life.
Money, clubs and marriages alike then come and go, while no night out is turned down. "Anything," he puts it, "to relieve the boredom." Gillespie was a very good player, but it's tempting to wonder how much better he'd have been without being out on the lash three nights a week. He remembers only two games, for Newcastle against Barcelona and Northern Ireland's famous win over England in 2005, where he actually sat in after a match.
A typically hasty and mistaken attempt to make a quick buck by investing in film schemes leads to bankruptcy late in his career when he can least afford it. However, this ultimately forces Gillespie to counter the failings in his own character, not least by opening the numerous final demand envelopes cluttering up his living room. It is too cliched to claim that Gillespie achieves redemption at the end of his tale. Rather he gains the uncertain gift of a better understanding of himself. In doing so, he provides a compelling glimpse into the dark void inherent in the modern age of adrenaline-fuelled football celebrity.