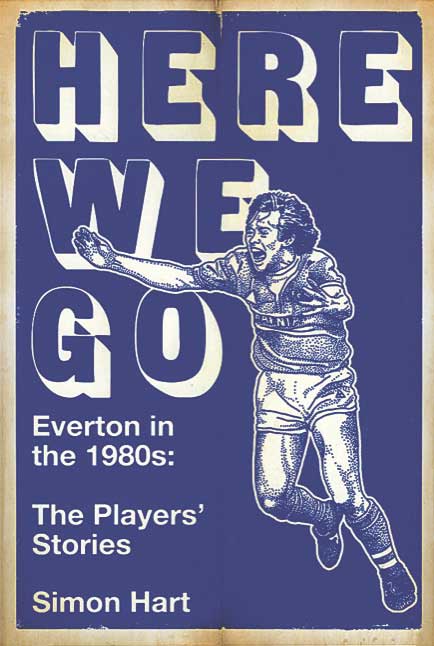 Everton in the 1980s
by Simon Hart
De Coubertin Books, £18.99
Reviewed by Jamie Rainbow
From WSC 357 November 2016
Simon Hart's book consists of 13 in-depth interviews with many of the key figures that formed Everton's great team of the 1980s. This period of footballing success for both Liverpool clubs coincided with a turbulent time when football provided a welcome release from the city's acute economic and social problems. It's a facile theory perhaps, but one grounded in reality and one the Everton players took at face value. It's to Hart's credit that he weaves a poignant narrative through these interviews without succumbing to undue sentimentality.
Here We Go is the story of a largely youthful team led by a young, up-and-coming manager – Howard Kendall was only 38 when Everton won the League and Cup-Winners Cup double in 1985 – who briefly became the dominant force in English football, before imploding within a few short years. Certain themes keep recurring, most notably the remarkable sense of togetherness engendered by Kendall and fostered by frequent boozy nights out in Liverpool. Never has the expression "a team that drinks together wins together" seemed more apt.
Ironically, as Hart discovers, it was this very closeness that ultimately accelerated the club's decline. Several of the players who joined after the mid-1980s high point speak of their difficulty breaking into the inner sanctum. Pat Nevin, unencumbered by association with the "glory days", talks perceptively about the gulf between old and new, and how Kendall's successor Colin Harvey ("a brilliant guy") was unable to reconcile the two factions. The feuding culminated in a notorious Southport Chinese restaurant incident involving Martin Keown (who appears to have been universally disliked) and Kevin Sheedy.
Neville Southall, who was there throughout, talks knowledgeably about the strengths and weaknesses of Kendall – for whom Here We Go could almost be regarded as a book of remembrance – and Harvey, ultimately concluding that the latter, though an innovative tactician, was far too nice to be in charge. Kendall is portrayed as a paternal man-manager who could be ruthless if required, but also a shrewd alchemist who understood what it took to build a team based on a diverse collection of individuals.
Indeed, the only disappointment in Here We Go comes with the absence of interviews with Andy Gray and Peter Reid. These two pivotal figures, whose best days appeared to be behind them when they joined Everton, are credited by many former team-mates with instilling the personality and self belief that would transform a talented but inexperienced group into one of Europe's best teams.
Most of the events discussed in these entertaining and occasionally eye-opening conversations will be familiar to many Everton fans of a certain age, but Hart, an accomplished writer with an exceptional eye for detail, coaxes colour and insight from his interviewees. Most speak with refreshing candour about the profound and lasting impact this period had upon their lives.
It is perhaps no coincidence that many of the players are still involved with the club in some capacity or other. Although it comes as something of a surprise to discover that one of them is Pat van den Hauwe, whose recounting of his return to Goodison after "going missing for 20 years" even carries with it elements of redemption.