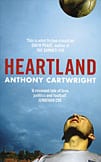 by Anthony Cartwright
Tindal Street Press, £9.99
Reviewed by Matthew Brown
From WSC 269 July 2009
Novels about football are notoriously difficult; good ones distinctly rare. It's been a long time since Brian Glanville's Goalkeepers Are Different and although that was basically a tale for teenage boys, it still stands out in the football fiction landscape. More recently David Peace's The Damned United, yet that could be filed under the dubious "faction" label.
Anthony Cartwright's second novel Heartland is a great book about football largely because it's not really about football at all, but politics, culture, community and identity at the grubby grassroots of British society in the first decade of the 21st century. Set in the former steelworks town of Cinderheath, in the Black Country, in early summer 2002, this is a portrait of Britain in flux, a story imaginatively structured around two contrasting football matches: England's clash against Argentina in that year's World Cup finals (Beckham's penalty, and all that) and a Sunday league title-decider between a white working-class team and a side representing the local mosque.
In the background, St George's flags flap above the West Midlands where the BNP expect to make gains at Labour's expense in the imminent local elections. Down the road, a trio of Guantánamo prisoners, "The Tipton Three", have brought national attention to a neighbouring town. And in Cinderheath a local white youth is stabbed in what is immediately assumed to be a racially motivated attack.
In the foreground is Rob, a teaching assistant at the local school who's struggling to get over his failure to follow in his father's footsteps and make it as a professional footballer. Rob has sunk to the Cinderheath Sunday side where he lines up alongside a mate who's been drawn into the clutches of the BNP, and against Zubair, the brother of his best friend, Adnan, whose mysterious disappearance they are both aching to understand. Add to the mix Rob's uncle, a long-standing Labour councillor who fears for his seat, and Jasmine, a childhood friend and Adnan's former lover, who's returned to the town to be the school librarian, and to mend her broken heart.
Lurking over it all is the shadow of 9/11 – planes, blue skies, absent buildings on urban skylines, although here the empty space is shaped by the former steelworks where Rob's father toiled after his football career was cut short by injury. Cartwright's achievement is to thread big urgent themes so skilfully into a narrative fractured into half a dozen different voices that his depictions of the changing nature of working lives, politics, education and the people's game are compellingly conveyed without a moment's lapse into nostalgia or sentimentality.
What's more, through his interwoven descriptions of the two fixtures – matches played out at opposite ends of football's giant pyramid – the author captures, precisely, just what it's like to be engaged in the complex plot of a game, whether as a fan or a player. In doing so, he shows what can make the sport so fascinating and so meaningful to so
many people.
Around football's seemingly random patterns of time and space, the dramas, duels and uncertainties of these two games, he draws a convincing vision of the insecurities of modern Britain. Cartwright himself quotes Jorge Valdano, the Argentinean World Cup winner-cum-writer, who said: "Literature is not an alternative to football but a complement." If you read a better complement to the game this year you'll be lucky.
Comments (1)
Comment by imposs 2010-12-15 14:01:51